Delta Air Lines reports being ahead of plan on profits for the year after posting record revenues of just under $14 billion for the third quarter.
The SkyTeam carrier's revenue performance was 11% higher than the same quarter in 2019 before the pandemic hit. It marks Delta's highest ever quarterly revenue.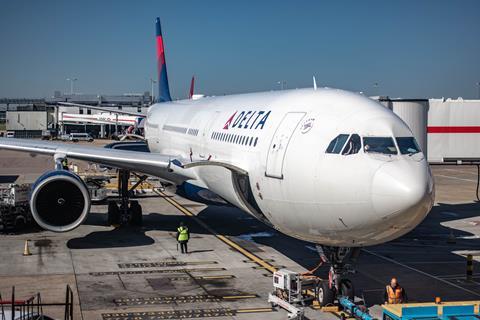 Delta president Glen Hauenstein says: "Our results reflect the strength of our brand and diverse revenue streams, with another quarter of record co-brand remuneration and continued premium product outperformance. With corporate travel improving and robust domestic and international demand, we expect December quarter revenue to be up 5 to 9% compared to December quarter 2019."
The airline posted an operating profit of just under $1.5 billion for the third quarter, while its net profit stood at $695 million. That though remains short of the $2.1 billion and $1.5 billion profits it made by the same metrics in the third quarter of 2019.
Delta chief executive Ed Bastian says: "The travel recovery continues as consumer spend shifts to experiences and demand improves in corporate and international. In this environment, we expect December quarter revenue growth to accelerate versus 2019 with an operating margin of approximately 10%.
"With strong demand and a return to best-in-class operational performance, we are ahead of our plan for the year on profitability and expect to be free cash flow positive. We're working towards full network restoration by summer of 2023, which supports a meaningful step up in profitability and cash flow next year."
Delta is the first airline to report financial results for the three months ending 30 September 2022.