South Korea's Eastar Jet has signed an agreement with stalking-horse bidder Sung Jung to acquire an 80% stake in the airline for about W110 billion ($97 million).
This comes with the condition that the local property developer maintains the low-cost carrier's workforce for five years, Eastar Jet's chief executive Kim You-sang was quoted as saying in a 24 June report by local news agency Yonhap.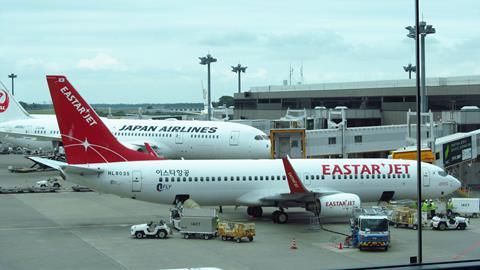 The same report states that Eastar Jet plans to submit its rehabilitation plans to the Seoul Bankruptcy Court by 20 July and pending its acceptance, targets to secure an AOC for domestic flights as early as November.
Cirium has contacted Eastar Jet for comment via its active official Facebook account. Previous attempts to do so, as well as calls to the main line, were not answered.
Eastar Jet has 505 staff at last count, according to a summary of the airline's rehabilitation administrators' report submitted to the court, posted on its official blog on 7 April.
At the time of the report, its manpower comprised five executives and 118 corporate employees, 93 flightcrew, 148 cabin crew, and 141 maintenance personnel – the minimum staff strength required to resume domestic flights, the report states, and most staff was on leave of absence.
The same report shows that the airline had 1,280 staff at the end of 2019, comprising four executives and 318 corporate employees, 254 flightcrew, 508 cabin crew, and 196 maintenance personnel.
Sung Jung, previously referred to as SJ in local media, was initially selected as a preferred investor and has first right of refusal. An open auction that closed on 14 June attracted a single, W109 billion bid by a local consortium that includes clothing retailer Ssang Bang Wool, versus Sung Jung's initial bid of W100 billion, according to the Yonhap report.
A previous report by Yonhap, dated 14 June, indicated that the Ssang Bang Wool consortium bettered Sung Jung's W120 billion bid by W20 billion.