UK budget carrier EasyJet expects load factors to exceed 90% on capacity almost back at 2019 levels during the peak summer quarter, though it has stopped short of providing profit guidance for its financial year running to 30 September 2022.
EasyJet today disclosed it cut headline pre-tax losses by 22% to £545 million ($676 million) for the six months ending 31 March 2022. That was achieved on revenues of £1.5 billion, sharply up on the £240 million it recorded for the same period in its last financial year. That reflects increased flying as EasyJet carried 23.4 million passenger between October 2021 and the end of March 2022. That compares to just 4.1 million for the corresponding period the previous year.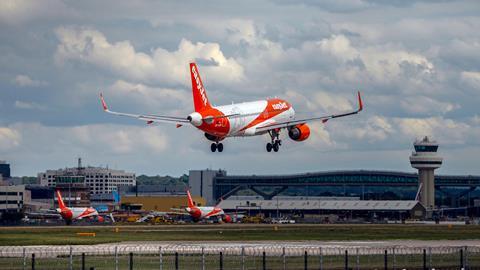 The airline's chief executive Johan Lundgren says: "EasyJet has reduced its losses year on year, at the better end of guidance. The pent-up demand and removal of travel restrictions provided for a strong and sustained recovery in trading which has been further boosted as result of our actions.
"These include the radical reallocation of aircraft which has seen more than 1.5 million seats moved to the best performing markets and the step-change in our ancillary products delivering increased revenue - both of which have contributed to our total yield increasing by 9% compared to the same period in FY19. All of this is not only delivering now but with more to come in the future as even more passengers take to the skies."
Load factors over the first half climbed to 77.3% from 63.7% and EasyJet expects further rises over the key summer months as it further restores capacity. EasyJet lifted capacity from 50% of 2019 levels in January to 81% in March andt sees load factors in excess of 86% on capacity at around 90% of 2019 levels for the March-June period. That will rise to over 90% on capacity at 97% of pre-crisis levels in the fourth quarter of its financial year.
"Since Easter we have been flying up to a quarter of a million customers and 1,600 flights every day and in the second half leisure and domestic capacity will be above 2019 levels," says Lundgren.
The airline though says continued level of short-term uncertainty means "it would not be appropriate" to provide any further financial guidance for the 2022 financial year.