UK low-cost carrier EasyJet cites strong demand and booking levels for projecting it will exceed current market expectations and make a headline pre-tax profit of £260 million ($322 million) for the year ending 30 September 2023.
In a trading update issued today, EasyJet said it will post a headline pre-tax loss of £405-£425 million for the six months ended 31 March. The first-half performance, which encompasses the usually loss-making winter season, would mark a narrowing of the headline pre-tax loss of £545 million incurred in the same period last year.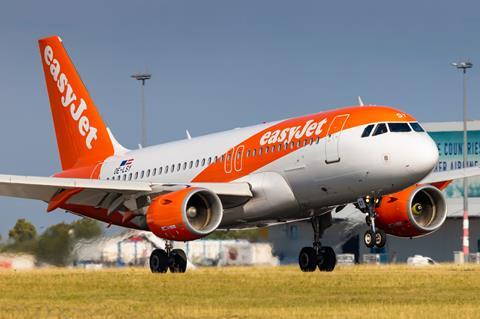 EasyJet chief executive Johan Lundgren says: "Demand for EasyJet's flights and holidays has continued to grow in the half, resulting in more than a £120 million pound improvement in our performance as well as a billion pound revenue improvement year on year. This is further enhanced by our transformed network of popular destinations and improved revenue capability."
The carrier expects first-half revenues to be around 80% higher this year at nearly £2.7 billion, after reporting a strong rise in passenger numbers and load factor. EasyJet flew 15.6 million passengers between January-March – 4 million more than the previous year – and load factor climbed 10 points to 88%.
EasyJet has been continuing to lift capacity over the year and expects to return to pre-pandemic levels in the July-September quarter.
Current market expectations based on company compiled consensus is a £260 million pre-tax profit for the full year.