UK carrier EasyJet could be the first airline to trial a pair of hydrogen propulsion systems being developed by GKN Aerospace under a new pact between the companies.
Detailing the agreement, EasyJet says it is collaborating with the UK-headquartered supplier to "work toward reducing carbon emissions in aviation through the adoption of zero-carbon-emission technologies".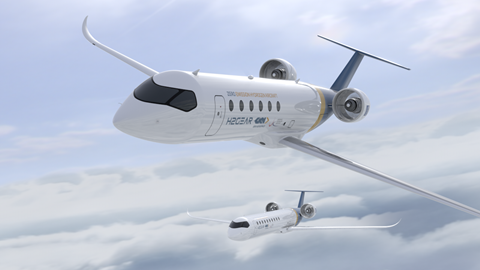 That will see the airline support the development of GKN's H2JET and H2GEAR powertrains "including exploring the options for flight demonstration".
EasyJet says it is "optimistic" that it could begin passenger flights using hyrdogen-powered aircraft "by the mid- to late-2030s".
H2JET is a two-year project that began in 2021 and led by GKN's Swedish engines business. It aims to develop key subsytems for a liquid hydrogen-combustion turbofan or turboprop engine designed for a new single-aisle airliner in the middle of next decade.
H2GEAR, meanwhile, is a UK project examining the potential for liquid hydrogen fuel cells to power a sub-regional aircraft. The 1MW-class system is to be ready for ground testing in 2026.
Although designed around a 19-seat aircraft, GKN intends the H2GEAR powertrain to be scalable.
EasyJet has previously struck partnership agreements to explore on low-carbon technologies with Airbus, Rolls-Royce, Cranfield Aerospace Solutions and Wright Electric.