Cathay Pacific expects to carry fewer than 600 passengers a day in March, while operating a "skeleton passenger flight schedule", as new crew quarantine measures introduced by the Hong Kong government kick in.
The beleaguered airline group, which reported a record full-year loss for 2020, flagged the "significant impact" of the stricter measures, which kicked in late-February, and requires all Hong Kong-based crew to undergo a mandatory 14-day hotel quarantine and a seven-day medical surveillance.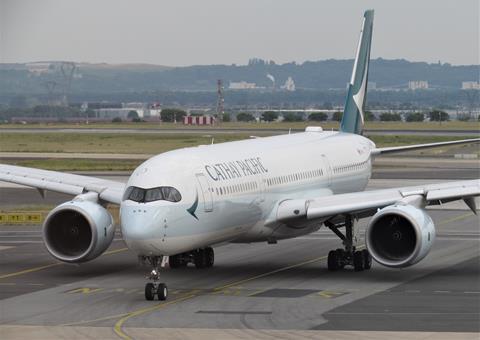 Releasing its traffic results for February, Cathay said it carried just over 21,100 passengers during the month, a 98% decrease year on year.
The figure, the lowest since April 2020, was also lower compared to the over 30,000 passengers it carried in January.
Cathay group customer and commercial chief Ronald Lam notes that the "particularly challenging" month saw an average of around 755 passengers a day, dipping to just 348 passengers carried on 22 February.
Lam states that the figure was "a significant decline from the already low 981 passengers we carried per day the previous month".
Overall RPKs for the month fell 98% compared to February 2020, while capacity shrank 92% year on year.
Passenger load factor was a mere 13.9%. This was 39.2 percentage points lower year on year, and a marginal improvement from the dismal 13.3% load factor in January.
Cargo, too, felt the impact of the stricter quarantine measures, despite performing relatively better in February. Cathay notes "strong cargo demand" in early February, leading up to the Lunar New Year holidays.
While demand slipped over the festive period, Lam discloses that demand recovered near the end of the month, but was also impacted by stricter crew quarantine measures.
"These measures also have a notable impact on our capacity and therefore our tonnage carried. Overall in February, capacity dipped month-on-month by 23%, while load factor remained high at 79.5%," says Lam.
He reiterated the point that Cathay's capacity projection "remains largely valid". The Oneworld carrier expects capacity to be just below a quarter of pre-pandemic levels in the first half of the year, before rising to below 50% for the entire year.
"We are still in a very dynamic situation and we will have to continue to be agile in our response," adds Lam.
Cathay's traffic results come days after it released its full-year results for 2020, where it plummeted to a record operating loss of HK$18.1 billion ($2.3 billion).
The Cathay group also reported a staggering net loss of HK$21.6 billion, as it also took on a number of hefty one-time impairment and restructuring costs, including those relating to the early retirement of 34 aircraft from its fleet.