Middle Eastern operator Emirates Group is expecting that recovery from the coronavirus crisis will take at least 18 months, as it braces for a "huge impact" on its 2020-21 performance.
The Dubai-based company's passenger operations were suspended a few days before the close of its financial year on 31 March, while its Dnata ground-handling division has also been affected by the depletion of traffic.
Chief executive Sheikh Ahmed bin Saeed Al Maktoum says the group had been "performing strongly" for the first 11 months of its 2019-20 financial year, before the situation "changed rapidly" around mid-February.
"We expect it will take 18 months at least, before travel demand returns to a semblance of normality," he says.
"We are actively engaging with regulators and relevant stakeholders, as they work to define standards to ensure the health and safety of travellers and operators in a post-pandemic world."
Emirates Group's full-year finances were also affected by last year's April-May closure of one of Dubai's runways for maintenance work.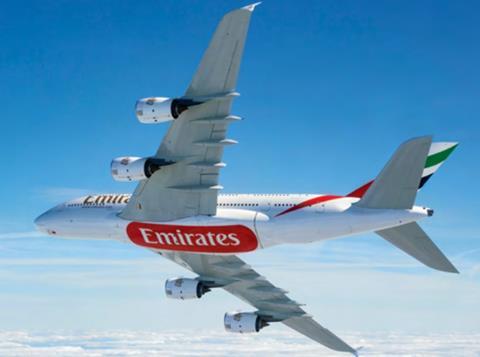 This closure and the effects of the pandemic towards the tail-end of its fiscal year contributed to a 4.8% decline in revenues to Dhs104 billion ($28 billion), as Emirates' airline revenues slipped by 6% – although Dnata revenues increased by 2.4%.
While Emirates' profit increased by 21% to Dhs1.06 billion, however, Dnata's more than halved to Dhs618 million, and Emirates Group's overall profit was down by 28% to Dhs1.67 billion.
Profit would have been higher, it claims, but for a Dhs1.1 billion loss arising from year-end fuel-hedge ineffectiveness.
Although total operating costs fell by 10% - partly driven by a fall in fuel price – the company adds that the strength of the US dollar had a Dhs963 million negative effect on its bottom line, more than the previous year's impact of Dhs572 million.
Emirates Group says it has taken steps to protect cash flow, and had partially drawn credit lines before 31 March.
It adds that it is working to secure additional lines to improve its "liquidity buffer", raising Dhs4.4 billion in loans, credit and trade facilities in the fourth quarter of 2019-20. The company says it will "continue to tap the bank market" for further liquidity in the first quarter of 2020-21 to "cushion" the impact of the coronavirus crisis on short-term cash flow.