Emirates has resumed flights to London Stansted airport, bringing to three the number London gateways again served by the Middle Eastern carrier.
Long an operator into London's Heathrow and Gatwick airports, Emirates added Stansted flights in mid-2018, only for the route to be dropped in March 2020 when the pandemic hit international travel.
Daily services to Stansted resumed on 1 August, Emirates says, using Boeing 777-300ER jets.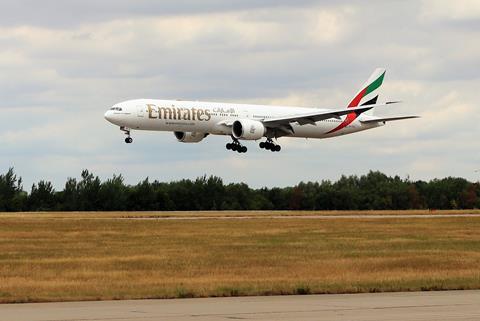 "We first started Stansted back in June 2018 and then a year later it went double-daily, so it's been a great success story for Emirates," the carrier's UK divisional vice-president Richard Jewsbury told FlightGlobal on 2 August. "We are very pleased to be building back the UK operation."
As the demand recovery continues, Emirates says that by October this year it expects to be undertaking 110 weekly flights to the UK, comprising six daily services to London Heathrow, twice-daily operations at London Gatwick, the relaunched daily service to Stansted, three-times-daily services at Manchester, a double-daily service at Birmingham, five-times-a-week flights at Newcastle and a daily service at Glasgow.
"Come October we'll be around 75% of the way back [to pre-Covid levels]," says Jewsbury. "Over the next six to 12 months we'll work towards getting back to where we were and then we'll see what opportunities come thereafter."
Jewsbury notes that demand for travel to Dubai as a destination has been particularly strong during the pandemic recovery, not least because it was one of the few destinations that offered UK leisure travellers some "winter sun" while many countries continued to limit non-essential travel in late 2021 and into 2022.
Today, demand for travel beyond Dubai is also returning.
"What we are seeing now is those 'beyond' markets reopening and beginning to build in terms of popularity and demand," he states.
For Stansted in particular, Jewsbury highlights the potential attractiveness of the airport to business travellers from the City of London due to train links, and those working in the east of England's large pharmaceutical and life-sciences sectors.