Air Baltic will take an additional four aircraft on short-term wet-leases to offset engine maintenance delays relating to its fleet of Airbus A220-300 jets.
The Riga-based carrier says it will add two Airbus A320s – from Danish Air Transport and Cyprus Airways – an A319 from Carpatair and a Bombardier CRJ900 from XFly to its fleet during the period 27 March to 31 May, without specifying for how long each airframe will undertake Air Baltic flights.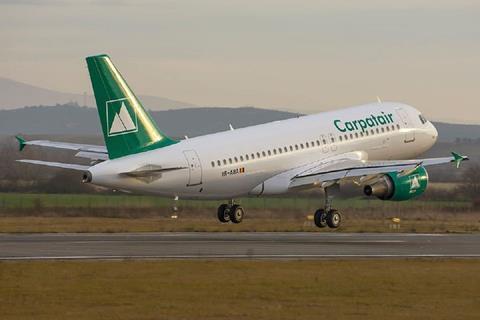 The move comes as the carrier continues to experience delays to the maintenance of the Pratt & Whitney PW1500G engines that power its A220s – an issue that has already prompted several short-term wet-leases at Air Baltic.
Chief executive Martin Gauss first raised the problem with FlightGlobal in June 2022 and his concerns have since been echoed by other airline chiefs, as Covid-related supply-chain challenges weigh on the supply of spare parts alongside the loss of experienced staff at key service providers.
"We are strongly committed to our contractual obligations to passengers and partners," says Gauss regarding the latest move to wet-lease aircraft. "However, the extended turnaround times for Pratt & Whitney servicing the engines are causing operational disruption for Air Baltic.
"While we understand that this is an unfortunate situation, we remain optimistic that it will be resolved soon."
Air Baltic recently made a separate announcement that it would take four A320s on wet-lease from Avion Express for the summer season, citing "technical parts supply-chain issues" with its A220s.
Air Baltic took delivery of its 40th A220 earlier this month.
Pratt & Whitney previously told FlightGlobal that it was working on "mitigation strategies" with its own supply base.
Airline chiefs have highlighted issues with spare parts shortages covering other manufacturers and other sections of the aircraft in recent months.