Ethiopian Airlines Group achieved a profit of $937 million during its financial year to 30 June 2022, according to its home country's sovereign wealth fund, with cargo accounting for more than half of the group's revenue.
Writing on social media on 31 August, Ethiopian Investment Holdings (EIH) chief executive Mamo Mihretu said the profit represented a 90% improvement year on year, "despite the headwinds of a worsening global economic outlook, rising fuel costs and the global pandemic".
Revenue of $5 billion at the state-owned operator was up 79% on the previous year, EIH says, with some 59% of income coming from cargo operations.
Operating costs as a proportion of revenue were down 74% year on year, it adds.
The airline carried 6.9 million passengers on international services during the 12 months, EIH states, 36% more than in the previous 12 months.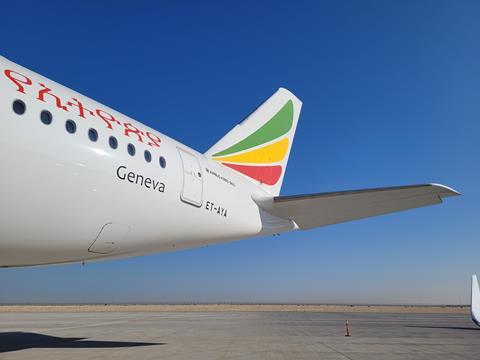 "Ethiopian Airlines thrived – despite the global pandemic – without job losses and significant cancellations, thanks to its management agility and its obsession in ensuring long-term cost leadership, proving the resilience of its strategy," Mihretu says.
Indeed, even during its previous financial year to June 2021, Ethiopian has said it was "cash positive" – despite significant Covid-19 travel restrictions being in place globally – largely thanks to its shift in focus to cargo operations.
Ethiopian has not, however, released a comprehensive financial report since the one covering the year ending 30 June 2020.
EIH was launched earlier this year by the Ethiopian government to attract investment into a hitherto state-managed economy.