Etihad Airways will trial new contactless technology that will help it identify passengers with medical conditions, potentially even those with early stages of the coronavirus.
The carrier is partnering with Australian technology firm Elenium Automation to test the new concept later this month at its Abu Dhabi hub.
The technology can "monitor the temperature, heart rate and respiratory rate of any person using an airport touchpoint", which includes at check-in, immigration, or bag-drop.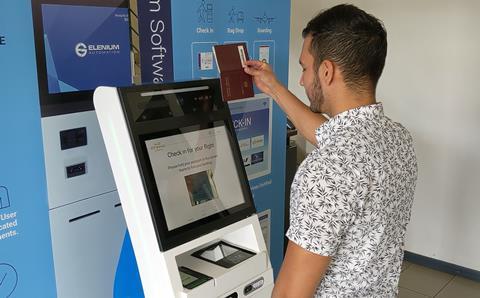 Should a passenger show signs of illness, the system will automatically suspend check-in or bag-drop. "It will then divert to a teleconference or alert qualified staff on site, who can make further assessments and manage travellers as appropriate," Etihad adds.
However, the carrier is cautious to call it a tool for medical diagnoses.
Etihad vice president for hub and midfield operations Jorg Oppermann says: "This technology is…an early warning indicator which will help to identify people with general symptoms, so that they can be further assessed by medical experts, potentially preventing the spread of some conditions to others preparing to board flights to multiple destinations."
Elenium has also developed hands-free technologies that use voice recognition to perform certain self-service tasks. This, it states, will minimise the potential of viral or bacterial transmission.
The technology firm's chief executive Aaron Hornlimann says: "The system would screen every individual, including multiple people on the same booking. The technology can also be retrofitted into any airport kiosk or bag drop or installed as a desktop system at a passenger processing point such as an immigration desk."