Eurocontrol data for November shows European flight activity tracking slightly ahead of its baseline projections, in data providing a snapshot of the air traffic recovery in the region immediately prior to the emergence of the Omicron strain of Covid-19.
Data shows European flight traffic was at 77% of 2019 levels in November. That is a percentage point above Eurocontrol's projection for November contained its baseline traffic scenario, which envisages European flights reaching 85% of pre-crisis levels by March 2022.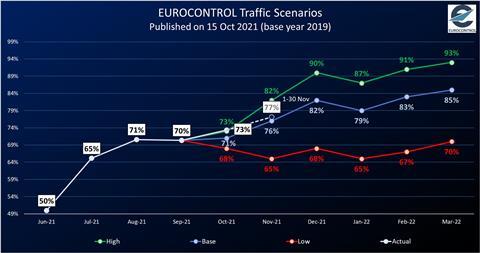 In a social media post, Eurocontrol director general Eamonn Brennan says that while the data is aligned with the baseline scenarios, he says it is not clear how fresh travel restrictions in the response to discovery of the Omicron Covid variant of concern might impact December's traffic.
EasyJet, in commentary related to its full-year results, yesterday said it was seeing some softening in trading for the current quarter, but flagged continued strong bookings for the summer season.
Weekly data from Eurocontrol shows flight activity in relation to pre-crisis levels dropping back through November. Flight activity in the first week of November was at 79% of 2019 levels, but had fallen to a little over 76% of pre-crisis activity by the end of the month.
The figures illustrate a relative spike in activity in late October and early November, which aligns with a later end to the shoulder season of the travel market.
European flight activity development October-November 2021
Week Commencing
Average daily flights
% share of 2019
Source: Eurocontrol weekly updates
22-28 Nov
20,053
76.3%
15-21 Nov
20,621
77.4%
8-14 Nov
20,787
77.6%
1-7 Nov
21,516
79.0%
25-31 Oct
22,962
81.0%
18-24 Oct
23,225
74.0%
11-17 Oct
23,223
72.8%
4-10 Oct
23,265
72.4%