Defunct US regional airline ExpressJet could re-emerge as a charter carrier under new ownership, initially flying passengers on one Boeing 777-200ER.
In a 17 July letter to the US Department of Transportation's (DoT) Air Carrier Fitness Division, ExpressJet's new owners, siblings Vandi and Sami Cooyar, outline a plan to use the former regional carrier's operating certificate to reboot the brand as a charter airline.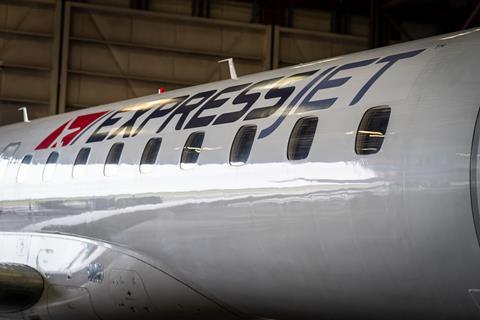 The Cooyars, who own Reno, Nevada-based lessor Logistic Air, request a 90-day extension to submit a notice of intent to resume operations with the carrier's certificate, due to expire next month.
Late last year, a bankruptcy court approved ExpressJet's re-organisation plan and the company was sold to Delaware-headquartered Polaris 8, a subsidary of Logistic Air.
The 777 that ExpressJet plans to use for charter operations will be leased by Logistic and carries the registration N771LG.
The 20-year-old widebody jet was built in Everett, Washington and first flew for Japan Airlines in July 2003. It is configured to seat 236 passengers.
At its peak, ExpressJet was one of the USA's largest regional carriers, operating a fleet of more than 450 aircraft on behalf of mainline partners Delta Air Lines and United Airlines.
Amid drastically reduced air travel caused by Covid-19, ExpressJet suspended its operations in September 2020 following the termination of its contract with United.
Prior to the pandemic, Expressjet had been operating ERJ-145s exclusively as United Express. But United shifted its ERJ-145 flying to Ohio-based partner CommuteAir, leaving the regional carrier without a mainline sponsor.
In October 2021, the regional airline briefly re-emerged as the short-lived Reno, Nevada-based Aha – standing for "air-hotel-adventure". It had planned to provide both scheduled and chartered flights, but filed for bankruptcy about a year after launching.
Aha attributed its collapse to high fuel prices, reduced revenue and a slow recovery from the pandemic. Growth was also hindered by a "lack of availability of aircraft and the inability to swiftly establish passenger servicing infrastructure in smaller airports", the carrier said at the time.
Now, the revived ExpressJet says it is "well-capitalised" and in a strong position to cover the cost of resuming certificated operations, which it anticipates to be about $2 million.
ExpressJet says in the DoT filing that further details of its business plan will be provided in its forthcoming application to resume operations.