The Federal Aviation Administration and NASA have developed software that promises to improve efficiency at major airports across the USA by reducing taxi times, flight delays and, as a result, lower fuel burn and greenhouse gas emissions.
The two agencies on 28 September published test results of software that "calculates gate push-backs at busy hub airports so that each plane can roll directly to the runway and to take off".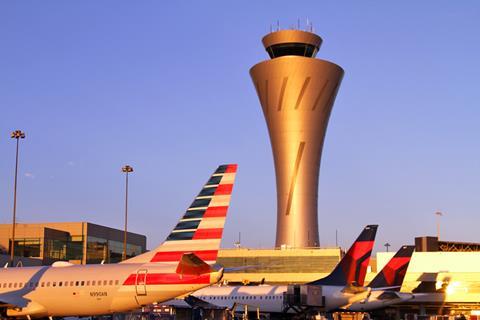 "The future of flight must be more sustainable and environmentally friendly," says FAA Administrator Steve Dickson. "This new capability, as part of a flight-merging system has a double benefit: It reduces aircraft emissions and ensures air travellers experience more on-time departures."
The software's capabilities were tested over nearly four years at Charlotte Douglas International airport, in Charlotte, North Carolina. During those tests, up to 1.04 million litres (275,000 USgal) of fuel were saved annually, and 7,258kg (8t) of greenhouse gas emissions were eliminated every day, the FAA says.
In addition, the high-tech program was able to reduce aircraft delays by 916h – equivalent to cutting 15min of wait time for each of 3,600 departing aircraft.
The US regulator expects the new software will allow airlines to save up to 27 million litres of fuel annually. That would rid the environment of more than 68 million kg of CO2 emissions every year.
The technology could help the aviation industry take a further step to cut its carbon footprint across the board as it strives to get to net-zero greenhouse gas emissions by 2050.
"NASA is developing transformative technologies that will revolutionise the aviation sector as we know it," NASA administrator Bill Nelson says. "This air traffic scheduling technology enhances aircraft efficiency and improves dependability for passengers every day."
The agencies plan to roll out the software to 27 of the USA's busiest hub airports, including those in Atlanta, Chicago, Dallas-Fort Worth, Las Vegas, Miami, New York, San Francisco, and Washington DC.