Fiji Airways is returning a pair of Airbus A330-300s as it works to reduce fixed costs amid the continued impact of the coronavirus pandemic.
The two aircraft (DQ-FJO, DQ-FJP) still have a few months left to run on their leases, says the airline. The two aircraft joined the carrier in May and July 2018 on what the airline calls "short-term" leases.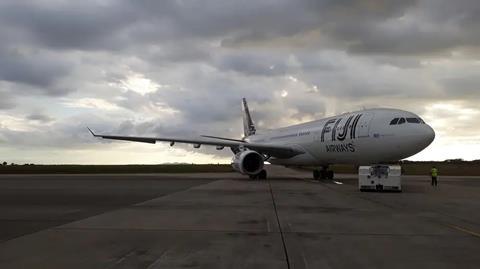 "The two aircraft were added to the fleet in 2018 to boost the capacity in the short-term, allowing for increase in frequency and launch of new routes like Tokyo (Narita)," says carrier chief executive Andre Viljoen.
"The aircraft were invaluable to helping Fiji Airways recover schedules following disruptions caused by the global grounding of the Boeing 737 MAX aircraft."
Both A330s have been grounded since March 2020.
"Since the beginning of the pandemic, we worked hard with the lessors of these aircraft to allow for an early return by a few months," adds Viljoen.
"This was only possible because these two A330s were short-term and nearing end of lease. Still, we'll take every little win in our efforts to reduce fixed costs as we tide through this pandemic."
Cirium fleets data indicates that both DQ-FJO (MSN 751) and DQ-FJP (MSN 807) are managed by Carlyle Aviation Partners, and previously served with Air Seychelles. Both are powered by Rolls-Royce Trent 700s.
Following the departure of the two A330s, the Fiji Airways fleet comprises two A350-900s, three A330-200s, five Boeing 737 Max 8s, and two 737-800s