The US Department of the Treasury is asking airlines and air transport businesses to submit applications for government payroll grants via an online portal before the close of the 3 April business day.
However, the agency will still consider applications received after that deadline.
The agency is charged with dispersing to such companies grants of up to $32 billion for the purpose of paying "employee wages, salaries and benefits", according to the Treasury Department.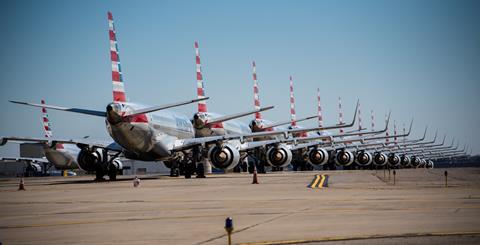 The funds are available as part of an economic relief package signed last week by President Donald Trump in response to the coronavirus impact on the US economy.
The grants include up to $25 billion for passenger airlines, $4 billion for cargo carriers and $3 billion for contractors. That category encompasses companies involved in passenger airline catering, airport security screening, passenger ticketing and aircraft ground handling and cleaning, says the agency.
The Treasury Department's website directs applicants to submit grant requests via a "Payroll Support Application Form".
"To receive approval of their applications as soon as possible", companies should complete the form by 17:00 US EDT, says the agency.
Applications submitted after the 3 April deadline will still "be considered, but may not receive approval as quickly as possible". The agency "may not" consider applications submitted after 27 April, it says.
The Treasury Department is only issuing grants to companies that agree not to layoff or furlough staff, or reduce pay or benefits, through 30 September.
Also, applicants must propose means to "provide appropriate compensation to the federal government in exchange for payroll support", it says.
The Treasury Department prohibits companies taking payroll grants from purchasing their own stock or paying dividends to stockholders through 30 September, and may require airlines maintain scheduled flights to an extent the secretary of the Department of Transportation deems "reasonable and practicable".