Embattled Thai Airways has outlined ambitious plans for a post-restructuring future, including simplifying its fleet structure and cutting the number of staff.
Rehabilitation planners at the Star Alliance carrier submitted their plan to Thailand's Central Bankruptcy Court on 2 March, outlining proposals on how the airline, which plunged to its worst-ever net loss in 2020, should be restructured.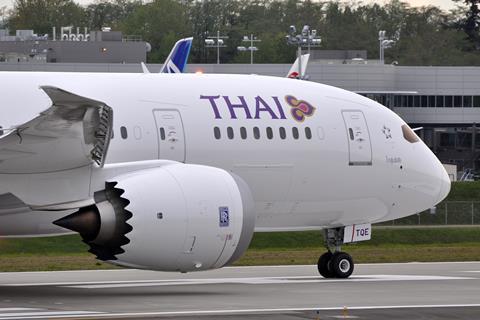 Underpinning the rehabilitation plans is a goal to return Thai Airways to profitability, especially given its "crucial role" as the country's flag carrier.
Even before the coronavirus pandemic struck, Thai had been in bad financial shape, widening its full-year losses for 2019 despite carrying more passengers in the year.
The pandemic has only exacerbated its issues: Thai says it suffered a lack of liquidity and cash flow. It was given the green light by the Thai government in May to restructure under court supervision.
"Once the court approves the rehabilitation plan and the Covid-19 situation is fully contained, Thai will be ready to operate under its new vision: A private high-quality full-service carrier with a strong Thai brand, connecting Thailand to the world and consistently generating a sustainable profit margin," the carrier states.
Thai says it will simplify its varied fleet by cutting the number of aircraft types to just five. At present, Cirium fleets data shows the Bangkok-based carrier's fleet to comprise aircraft such Airbus A330-300s, A350-900s, Boeing 777-200/300s, as well as 787-8/-9s.
The carrier had already issued a request for proposals in February to sell 10 747s in its fleet. In October 2020, the carrier put up 34 aircraft on sale.
On the fate of its employees, Thai says it will impose two new rounds of "mutual separation programmes", which will see headcount reduced by between 6,000 and 7,000 employees.
Taken together with its first phase of staff furlough which took place in 2020, up to 15,000 employees will be made redundant by the end of this year.
Thai has also promised a review of its network to optimise to yields and drive up revenue. It will shift to a "more focused network", where it only flies to destinations that are profitable. It has also hinted at a cabin product redesign "to deliver a high quality experience but at a lower cost than today".
To shore up its finances, Thai is reportedly looking to raise around Bt50 billion ($1.65 billion) over the next two years. Thai media reports add that the carrier will raise about Bt30 billion by the middle of this year, to pay for operational and employee costs.
The reports have also cited Thai's acting president Chansin Treenuchagron as saying that a creditors' meeting will be called as soon as early-May. The court will then decide whether or not to endorse the rehabilitation plan in the middle of the year.
Thai reported a staggering full-year net loss of Bt141 billion in 2020, dragged down by significant one-time costs and dismal revenue.