Defunct UK carrier Flybe has moved a step closer to an unlikely resurrection after beginning a recruitment drive for key training personnel.
The carrier in its original guise went bust in March 2020, with its remaining business and assets acquired in April by Thyme Opco, a company affiliated with Cyrus Capital, an investment firm which held a stake in the carrier prior to its collapse.
Announcing the purchase of the assets, Thyme Opco, which subsequently changed its name to Flybe, said that subject to the relaxation of travel restrictions it planned to "launch a new and much improved Flybe sometime this summer on many of our former routes".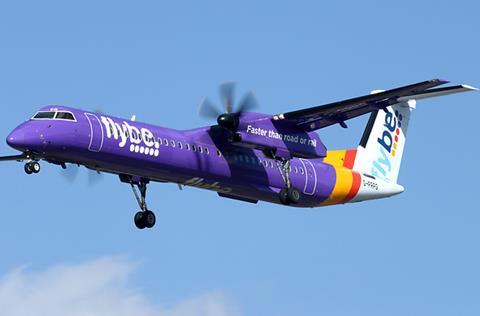 Although the summer season is coming to an end with no sign of a restart, there are indications that the airline is still moving in that direction.
Job adverts recently appeared on the LinkedIn website for a variety of positions, including: type-rating instructors (TRIs), line training captains, ground training officers, cabin crew trainers, cabin crew managers, and cabin crew line trainers.
"We are looking for experienced Dash 8-400 TRIs who would like to join the team and embark on this exciting journey based in the West Midlands," reads the text of one advert.
Due to "a large number of candidates" the closing date for applications was brought forward to 18 August from later in the month.
The adverts were highlighted by Mark Firth and Adam Brighton, who are respectively the head of flight operations and head of training, according to their LinkedIn profiles.
Flybe has given little indication of the routes it plans to operate, nor when it intends to beginning flying passengers again.
The airline was previously headquartered at Exeter airport in southwest England, but the West Midlands focus apparent in the job adverts would indicate that its main base is now likely to be Birmingham airport.
In addition, Flybe has secured seven daily slot pairs at London Heathrow covering services to Aberdeen and Edinburgh running from 31 October to 26 March 2022. These have been leased from British Airways. A similar number of slots was secured for the summer season under a swap deal, according to slot co-ordination body ACL.
Flybe has yet to secure a fleet for its return, although Irish lessor Aergo Capital in July took possession of a package of 20 Dash 8-400s that were operated by its predecessor. These were registered to Wellington Leasing No 33 – an Aergo special purpose vehicle – on 15 July, according to the UK Civil Aviation Authority.
In June, Aergo chief executive Fred Browne told news site Cirium that the lessor was in talks with Flybe over placing a number of aircraft with the carrier. These negotiations are believed to be continuing.
Aergo says it is seeing strong demand for all 20 of the aircraft; deliveries are due to begin in October. No details of any possible customers were released, however.
Directors of the new Flybe include: Anthony Hatton, a former director of TUI and GB Airways; recruitment specialist Gareth Jarman; Robert Knuckey, a previous director of Flybe and Jersey European; and Jonathan Peachy, a former chief executive of Virgin Group in the USA and an advisor to Cyrus Capital.
Flybe declines to comment on its restart plans.
At the time of its collapse Flybe had been planning to rebrand as Virgin Connect, operating as a feeder service for Virgin Atlantic long-haul flights.
Flybe's assets were acquired in early 2019 by the Connect Airways consortium, comprising Virgin Atlantic, Stobart Group and Cyrus Capital.
Despite the assertion that the airline would begin flying again on many of its former routes, many of these have already been taken over by competitors.
While precise comparison is difficult due to the disruption caused by the Covid-19 pandemic, analysis of Cirium routes data covering Flybe's three main bases of Birmingham, Exeter and Manchester for July 2019 and 2021 does indicate two broad trends.
First, other carriers have moved in to pick up domestic routes in Flybe's absence, or consolidated their position on routes they were already operating. For example, at Birmingham, Scottish regional carrier Loganair now flies to Aberdeen, Inverness and the Isle of Man; EasyJet has started services to Glasgow, Edinburgh and Newquay; while routes to the Channel Islands of Guernsey and Jersey are now served by Aurigny Air Services and Jet2, respectively. Aer Lingus has also added flights to Belfast.
It is a similar story at Manchester, where in addition to the carriers above, former Flybe routes have been taken over by Blue Islands, Eastern Airways and Ryanair – in the Irish airline's case, it has launched a service to Milan Malpensa.
Second, the routes not taken up are broadly to smaller airports. For example, from Birmingham that list includes nine French cities, plus five in Germany and one each in Ireland and Italy. With the exceptions of Berlin, Dusseldorf, Lyon and Milan Malpensa, all were regional sites such as Brest, La Rochelle and Hannover.