Resurrected UK regional carrier Flybe has selected Birmingham airport as its first operating base and headquarters.
While no date for the start of flights has been released, the carrier says operations are "scheduled to begin in early 2022". It will serve "key regions across the UK and EU".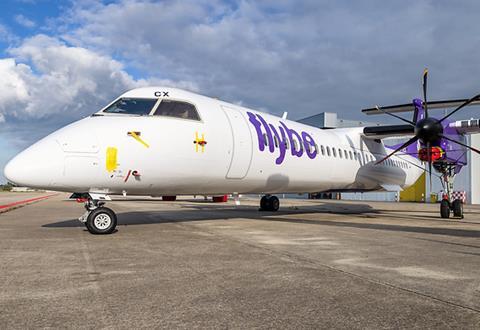 Aircraft have also begun emerging in Flybe livery, with an initial De Havilland Canada Dash 8-400 (G-JECX) recently arriving in Exeter following repainting Maastricht. That will be followed by a second aircraft, G-JECP.
Both twin-turboprops are owned by lessor Nordic Aviation Capital, data from the Civil Aviation Authority records.
The carrier holds substantial slot allocations at Birmingham and Manchester airports for the current winter and forthcoming summer seasons, according to data from Airport Coordination.
However, a disclaimer on the carrier's website notes that "some of the flights and services that we offer are provided by third parties".
Flybe in its original guise went bust in March 2020, with its remaining business and assets acquired in April this year by Thyme Opco, a company affiliated with Cyrus Capital, an investment firm which held a stake in the carrier prior to its collapse.
Thyme Opco subsequently changed its name to Flybe, while the former company became FB Realisations.
Administrators for FB Realisations have warned that claims from non-preferential creditors could top £650 million ($895 million) with little chance of them seeing a return.