Norwegian carrier Flyr is in a fight for survival after the failure of its financing plan put paid to a key wet-leasing deal.
The Oslo-headquartered airline says its flights were operating as planned on 30 January, but does not offer any reassurance on services beyond that date.
Outlining what it describes as a "critical short-term liquidity situation", Flyr explains that it has been unable to secure underwriting for a crucial rights issue, on which a proposed deal to wet-lease six aircraft to another European carrier for the upcoming summer season was contingent.
The wet-lease deal with "a reputable partner" would have "de-risked" Flyr's business case and improved the chances of succeeding with a new financing plan, the carrier says.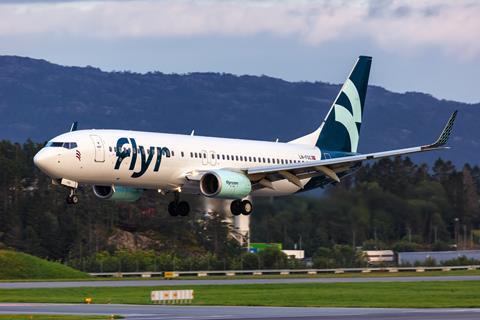 "The evaluation done by the company and its financial advisers was that this wet-lease agreement… would have secured the income and a profitable operation for 50% of the company's fleet for the entire period from the end of March to the end of October 2023," Flyr states.
The agreement was part of an effort to find a viable strategy for the struggling carrier, which cut back its services for the winter in a bid to reduce costs and was working to secure its finances under a plan unveiled in November.
To prepare for the wet-lease agreement, the airline notes that it had reversed "some of the liquidity preserving measures" it had implemented going into the winter.
Flyr needed to secure underwriting for a rights issue after the failure of a private placement of shares – which was initiated towards the end of 2022 under the November plan – with its stock since trading "considerably below the subscription price".
The airline is working on alternative arrangements "to rescue the business", but notes there is "no guarantee that a solution that would create a meaningful shareholder value for the current shareholders will be found".