Paris Orly-based long-haul, low-cost carrier French Bee remains in upbeat mood despite the coronavirus crisis and will next year significantly expand its fleet with the addition of two leased Airbus A350-1000s.
Already an operator of four A350-900s – the latest of which was added in August – the carrier says the definition of the new widebody twins is almost complete.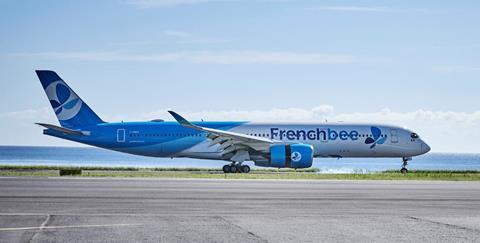 While the -900s have a 411-seat two-class layout, the A350-1000s will be able to accommodate 488 passengers across two cabins: 40 in premium economy and 448 in economy class.
Muriel Assouline, managing director of French Bee, tells FlightGlobal that the key to the carrier's resilience has been its agility and ability to "adapt very quickly" to changing market conditions.
"We inaugurated our fourth A350 this August – that is amazing in the middle of the crisis," she says.
Passenger services were grounded from March until mid-June during the height of the pandemic's first wave, although two to three cargo-only flights – for example to French island La Reunion – were operated each week during the period.
Since mid-year, French Bee has progressively ramped up passenger operations from its Orly hub, flying to La Reunion daily, and Papeete, Tahiti once weekly.
However, an existing operation to San Francisco and a planned route to New York – which was due to launch in June – are currently on hold due to Covid-19.
Although it will reinstate both services at a later date, Assouline says the time will depend on demand. "We are a friends and family airline – if the leisure traveller cannot fly, there is no market."
Citing the carrier's strong balance sheet, she adds: "We have no doubts for the future, but definitely we are working on adapting every day."
French Bee was on 9 September revealed as one of two airline partners which will help validate Airbus's fello'fly wake-harnessing programme, in which a trailing aircraft benefits from the lift generated by a preceding jet's vortices.
Assouline describes the initiative as an "amazing project" and stresses that the airline is "actively working to reduce carbon emissions".
It has so far provided Airbus with a year's worth of operational data from its transatlantic services to inform the development of a concept of operations. The airframer will now begin work with French Bee's crews so that both parties "understand the appropriate training for commercial pilots".
Next year, one of the carrier's A350s will be used for a flight demonstration of the fello'fly system in transatlantic airspace.
Other partners in the initiative – which promises fuel-burn savings of 5-10% – include airline SAS and air navigation service providers NATS, DSAA and Eurocontrol.
Assouline says that if the tests prove successful and the required regulatory changes are obtained then French Bee would be keen to adopt the fello'fly system.
"We like innovation and we like to be first," she says.
French Bee is part of conglomerate Groupe Dubreuil, which also owns Air Caraibes.