Embattled Garuda Indonesia saw its domestic market share erode in 2020, as full-year traffic tumbled significantly amid the coronavirus pandemic.
The airline — now subject to restructuring efforts — saw domestic market share drop 9.34 percentage points year on year to nearly 21%. Its low-cost unit Citilink increased domestic market share marginally, at nearly 1.3 percentage points to 14.4%.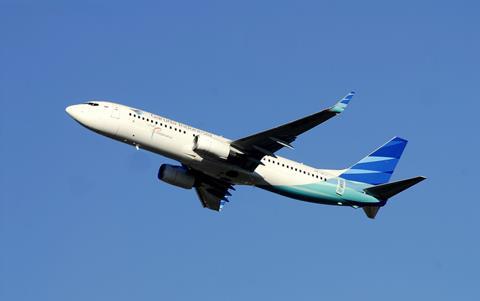 Taken together, the Garuda group captured 35.4% market share among domestic carriers, an 8-percentage point decline year on year.
Garuda disclosed the figures in its annual report, released days after it put out its financial results for the year ended 31 December 2020, where it plunged to a record $2.2 billion operating loss.
Underscoring the devastating effect the pandemic has had on the troubled airline group, both Garuda and Citilink saw passenger numbers across international and domestic networks plunge 66% year on year, to 10.8 million.
Garuda carried just 4.5 million domestic passengers for the year, representing a 71% decline, while its international passenger numbers plummeted nearly 82% to just 770,000.
Citilink, meanwhile, carried 5.5 million passengers in 2020, a 55% decrease year on year.
GARUDA MULLS REGIONAL NETWORK SHIFT
In its annual report, Garuda also hinted as a possible shift of regional aircraft operations to its low-cost unit, as it "realigns" its focus to serving larger domestic cities.
"Garuda Indonesia [will maintain] the current domestic routes, [and will move] the operation of regional jet routes to Citilink and open new routes with a comprehensive analysis, considering the optimisation of aircraft utilisation," states the SkyTeam carrier, without further elaborating.
The carrier in its full-year results disclosed it was looking to return 12 CRJ1000s on operating lease contracts, and negotiate the early termination of another six CRJs on finance leases.
Garuda states that it will focus on Tier 1 and 2 cities — defined by Indonesian authorities as cities with traffic of above 1 million passengers annually — while Citilink's operations will cover smaller Indonesian cities as well.
On the international front, Garuda notes it is still "a major player" on international routes, compared to Citilink.
The carrier has also ruled out long-haul operations for its low-cost unit, stating that such flights, which it defines as above nine hours, will need "comprehensive analysis".
Citilink will, however, operate in the short and medium-haul network, particularly focusing on routes to China, Taiwan and Hong Kong, as well as the Middle East for the medium-haul segment, while focusing on Southeast Asia and Southwest Pacific for short-haul.