Beleaguered Indonesian flag carrier Garuda Indonesia could halve its fleet to "no more than 70 aircraft", reportedly as part of restructuring efforts to turn the airline around.
A Bloomberg report cites Garuda president director Irfan Setiaputra as saying the airline would have to "go through a complete restructuring", which could involve halving the fleet from the current 142 to no more than 70.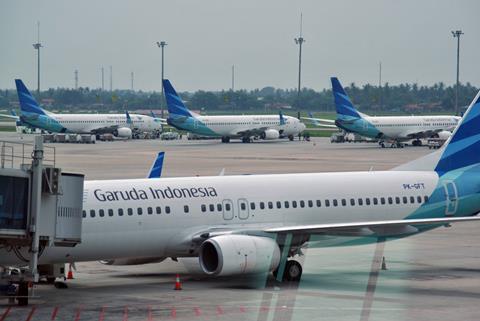 Setiaputra was reportedly addressing airline staff on 19 May when he made these comments. He also told staff that the airline was mired in debts of more than Rp70 trillion ($4.9 billion), with negative cashflow and equity.
FlightGlobal has written in to Garuda requesting for comment.
Cirium fleets data shows that the carrier has a current in-service fleet of 75 aircraft — the bulk of them Boeing 737-800s.
In a 24 May stock exchange disclosure, the SkyTeam carrier says the coronavirus pandemic has forced the company to "take steps to adjust the aspects of supply and demand", as its operating performance has been pummelled by the outbreak.
It was responding to separate media reports about plans for early employee retirement, where it confirms that it was "in the middle of the initial stage" of offering an early retirement programme.
In the notice, Setiaputra says the early retirement was a "tough step" to take, though it was a necessary move "to survive" amid the impact wrought by the pandemic.
Garuda was most recently slapped with several lawsuits surrounding lease defaults. In April, it agreed to pay an A$19 million ($14.7 million) penalty for its involvement in an air cargo cartel.