Garuda Indonesia has deferred payment of a periodic distribution on its $500 million sukuk trust certificate after a two-week grace period lapsed on 17 June.
In a 17 June disclosure to the Indonesia stock exchange, the airline states that it has "reluctantly concluded that it must continue to defer the payment" but does not state when it will resume payment.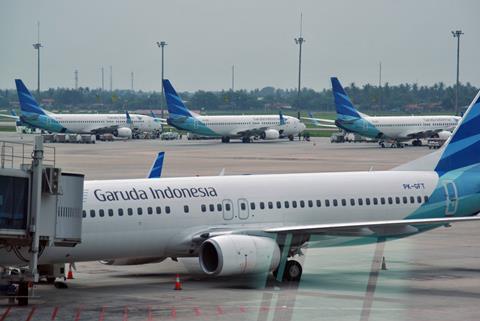 The airline was due to make the payment on 3 June and had opted to make use of a two-week grace period until 17 June.
Garuda says the deferral is "an unavoidable step" as it "[works] diligently to support its ongoing airline operations and manage its finances with all due prudence as it continues to navigate the depressed environment for air travel".
The $500 million sukuk matures on 3 June 2023, after sukuk holders last June agreed to postpone by three years the original 3 June 2020 maturity date.
In the same 17 June disclosure, Garuda states that it has appointed Guggenheim Securities as financial advisor, adding to its existing team of advisors comprising Mandiri Sekuritas, Cleary Gottlieb Steen and Hamilton and Assegaf Hamzah and Partners.
Garuda Indonesia's president and chief executive says: "We believe the team of advisors we have assembled is best positioned to support us as we strive to emerge from the pandemic as a strong, well-capitalised airline."
Garuda's debts have swelled to Rp70 trillion ($4.9 billion) and are forecast to continue building by Rp1 trillion each month amid the pandemic, a House of Representatives member told Indonesia's parliament on 3 June.
On 9 June, the airline painted a grim picture of its downsizing of operations, which saw it operating slightly over one-third of its fleet, as it urgently sought to stem losses and restructure its business.
Amid the pandemic, Garuda posted a loss of $1 billion for the first nine months of 2020, swinging from the $123 million profit it made for the year-ago period.