Beleaguered Garuda Indonesia is planning to significantly boost its cargo revenue in the near-term, as part of efforts to stem its losses amid the coronavirus outbreak.
The Jakarta-based carrier disclosed on 27 May that it hopes to increase revenue from cargo to about 40% — up from 10-15% — of its total revenue. It will do so by utilising its passenger aircraft fleet to carry cargo only, as well as ramp up cargo charter services.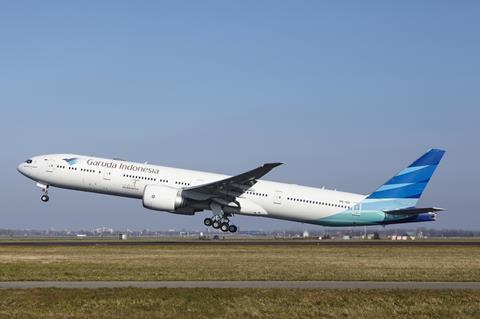 Garuda also reiterated that it was renegotiating aircraft leases, as well as restructure its loans and trade payables — as part of efforts to turn the business around.
However, the SkyTeam carrier did not address comments made by its president director Irfan Setiaputra about significant fleet cuts.
Several media reports earlier in the week cited Setiaputra as saying the airline would have to "go through a complete restructuring", which could involve halving the fleet from the current 142 to no more than 70.
The 27 May disclosure made no mention of the reports, though Garuda confirmed that Setiaputra spoke with airline employees, but stressed that the briefing was "information intended for internal use".
Garuda has seen its already-shaky financial performance pummelled further by the coronavirus pandemic. Setiaputra reportedly told staff that the airline was mired in debts of more than Rp70 trillion ($4.9 billion), with negative cashflow and equity.
Garuda also previously confirmed that it was "in the middle of the initial stage" of offering an early retirement programme for some of its employees — a move Setiaputra called "tough" but necessary for the survival of the carrier.