Garuda Indonesia slightly narrowed operational losses for the first half of its 2021 financial year, as revenues suffered a sharp decline amid the coronavirus pandemic.
The beleaguered flag carrier posted an operating loss of $703 million for the first six months of 2021, slightly better than the operating loss of $707 million a year earlier, according to its interim financial statement. The carrier reports its results in US dollars.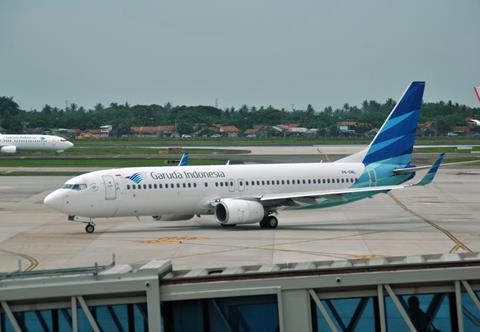 Operating revenue fell 24% to $697 million, and net losses widened to $902 million from $723 million in the first half of 2020.
As of 30 June 2021, cash and cash equivalents stood at $78.7 million, down from $201 million at the end of 2020.
The carrier adds that as of 30 June liabilities exceeded assets by $4.66 billion, and that travel restrictions related to Covid-19 have had a "major inverse impact" on operations and liquidity.
Given the financial woes, the carrier has failed to meet payments to banks, major vendors, airport operators, and lessors. It's inability to pay lessors has resulted in the grounding of some aircraft.
Several measures are underway to improve Garuda's financial position. These include negotiations with creditors about debt, and negotiations with lessors to reduce monthly rentals and maintenance reserve payments. In addition, the airline hopes to reduce headcount and receive additional funding support from the government.
Garuda also lists a number of efforts to improve its operational performance, including a dynamic pricing strategy, boosting scheduled cargo revenue, increasing passenger charters, closing non-profitable routes, and "right-sizing to increase potential route margin."
The Indonesian government, which owns 61% of the Garuda Indonesia Group, has set up a task force to explore the airline's options. It is encouraging local banks not to withdraw credit facilities.
Garuda has outstanding orders for 67 aircraft: 49 Boeing 737 Max 8s, nine A330-900s, four A330-800s, and five ATR 72-600s.