Garuda Indonesia has secured court approval for a major restructuring plan, setting the stage for the beleaguered carrier's revival.
Judges on the Central Jakarta District Court approved the scheme on 27 June, according to a statement from the carrier in Bahasa Indonesia.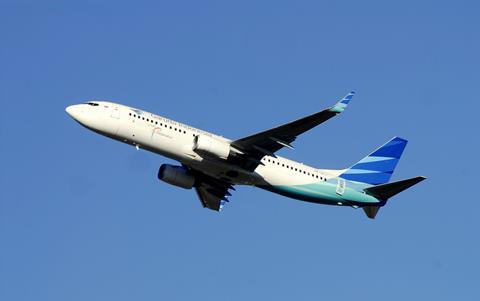 The decision comes just over a week after creditors approved the plan.
"With a leaner operational cost basis and the support and trust of all stakeholders, especially creditors, we hope that we can continue to encourage Garuda to optimize its business revival efforts with measurable recovery targets," says Kartika Wirjoatmodjo, deputy minister of state-owned enterprises (SOEs).
"We at the Ministry of SOEs will of course continue to oversee the performance transformation steps that are currently being optimized by Garuda Management, in order to become a more healthy and profitable business entity. With the outlook for the aviation industry that will be increasingly competitive, we believe that the business plan that has been prepared by Garuda Indonesia can continue to encourage measures to strengthen performance with the main focus being a competitive airline."
Garuda president director Irfan Setiaputra hailed the judge's decision as a "new milestone" in making the carrier more "sustainable and competitive." He adds that a key focus for the carrier is managing costs as Indonesian air travel recovers from the coronavirus pandemic.
The deal sets the stage for the carrier to settle about INR114 trillion ($9.6 billion) in claims, and help avoid bankruptcy.
Reuters recently quoted a financial adviser as saying that some $5.5-$6 billion in liabilities will be restructured, while the balance, which includes loans to banks and other service providers, will be extended without a reduction.
Irrespective, lessors, MRO companies, and bondholders will take a massive haircut.