Garuda Indonesia trimmed its quarterly losses — led by a modest uptick in revenue — as it saw some degree of domestic recovery amid the coronavirus crisis.
Releasing its results for the quarter ended 30 September, the Indonesian flag carrier posted an operating loss of $346 million, reversing the $171 million profit it reported in the same quarter last year.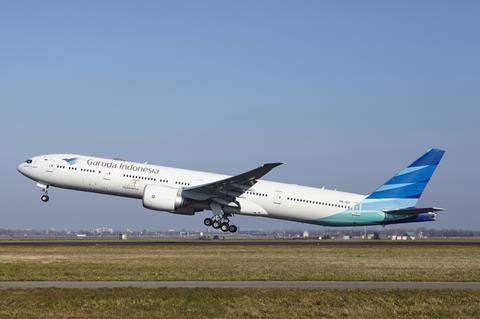 Quarter-on-quarter, the carrier narrowed its loss-making streak from the previous quarter's $708 million operating loss.
Revenue for the period dived 84% year on year to $222 million, but saw a 48.5% increase quarter on quarter, helped by an uptick in airline-related revenue.
Garuda saw a 49% year-on-year drop in expenses to $602 million, offset by a spike in depreciation costs. Quarter on quarter, Garuda brought expenses down by 14%.
On a nine-month basis, Garuda reported an operating loss of $1.05 billion, reversing the $253 million operating profit it attained last year.
For the quarter, Garuda reported modest improvement in domestic passenger air traffic, both in number of passengers carried and in capacity offered.
The airline carried 500,000 passengers for the period, a five-fold increase from the previous quarter, when traffic bottomed out. The figure was, however, 87% lower year on year.
Quarter on quarter, ASKs nearly doubled, but fell about 58% year on year. Domestic passenger load factor was 28.8%, about 53 percentage points lower year on year, but a modest 10 percentage point improvement quarter on quarter.
Garuda's international passenger traffic figures remained at depressed levels, with passenger numbers below 100,000 for the quarter. This represented a 97% year-on-year decrease. International ASKs shrank 86% year on year.
As for Garuda low-cost unit Citilink, it carried around 900,000 passengers across its network for the quarter, a 70% drop year on year, but a three-fold improvement compared to the previous quarter.
Citilink reported an operating loss of $157 million for the nine-month period, reversing the $63.4 million profit it made last year.
In a corporate presentation following the release of its third-quarter results, Garuda outlined a raft of measures it is undertaking to stem losses from the coronavirus outbreak.
These include renegotiating payment timelines with vendors and lessors, seeking alternative revenue streams, as well as undertaking a network review.
Garuda will "renegotiate aircraft contracts with lessors to reduce aircraft rental costs, postpone the arrival of new aircraft, and [seek] early redelivery aircraft options", it says.
On its network review, Garuda says it will close non-profitable routes and "right-size to increase potential route margin". The carrier did not elaborate on these matters.
It is also seeking to up its cargo revenue, to compensate for a reduction in passenger numbers, as well as "generate sustainable charter revenue" in the future.
In its results, Garuda did not make mention of the Indonesian government's plans to merge it with other tourism and travel state-owned enterprises, first announced in late October.
Garuda was reported to be supportive of the idea, with its president saying that it will make it easier for the carrier to restructure its debt.