Garuda Indonesia was in the red for the first quarter of the year, as declining revenue outpaced a reduction in costs amid less flying during the pandemic.
For the three months ended 31 March, the Indonesian flag carrier reported an operating loss of $287 million, reversing the $616,000 profit it reported during the same period in 2020.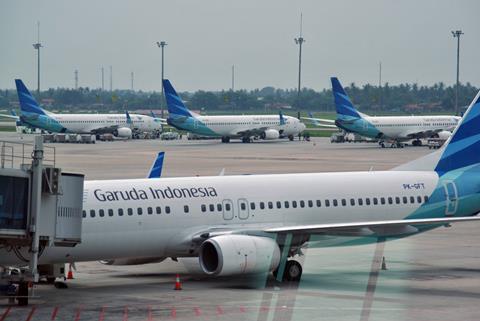 Revenue fell 54% year on year to $353 million, outpacing a decline in costs, which slipped 26% to $702 million.
The embattled SkyTeam carrier reported a net loss of $384 million, widening the $120 million net loss in 2020.
As with its 2020 annual results, Garuda ended the quarter with liabilities exceeding assets by $4 billion, and negative equity, at $2.3 billion.
In its annual results, independent auditors cast doubt on Garuda's ability to continue as a going concern, noting that the airline group had been unable to meet its financial obligations and had incurred significant losses.
While Garuda states that it will do its best to bring costs down and improve its financial situation, it acknowledges that there are several factors "beyond the group's control and may adversely affect the group's financial performance and ability to continue as a going concern".
These include global border restrictions amid the coronavirus pandemic, government-imposed ticket pricing caps for domestic flights, as well as fuel price and exchange volatility.