Garuda Indonesia rebounded to the black in its nine-month earnings, helped by a 60% increase in revenue as international borders reopened.
For the nine months to 30 September, the national carrier reported an operating profit of $3.9 billion, reversing the $1.8 billion loss it posted in the year-ago period.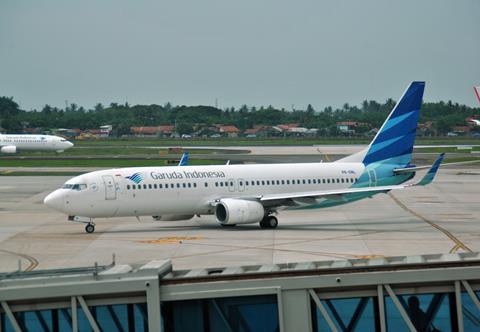 Garuda saw revenues increase 60% year on year to $1.5 billion, with passenger revenue increasing two-fold. The airline has said passenger numbers grew this year as border restrictions eased, with a three-fold jump in international passengers.
Nine-month expenses fell 6% to $1.9 billion, helped by a reduction in costs across various sectors including maintenance, as well as passenger services, though an increase in fuel expenses offset any further decline in costs.
The airline disclosed nearly $2.9 billion in income gained from debt restructuring, which helped it swing to a strong profit for the nine-month period.
Garuda posted a net profit of $3.7 billion, reversing its $1.66 billion net loss last year.
It had previously said it hopes to wrap up restructuring by the end of the year, after it gained approvals for its restructuring plan, including on debt reconciliation, capital increase, as well as state equity participation.
Garuda will end the year with 61 aircraft, with low-cost unit Citilink flying 58 jets, according to earlier fleet plans.