Garuda Indonesia narrowed its quarterly losses, as revenue held steady and overall costs declined.
The embattled national carrier was $162 million in the red at the operating level for the three months to 31 March. This compares to the $287 million operating loss posted during the same period in 2021.
Revenue remained similar at $350 million, though revenue from cargo operations fell year on year. Meanwhile, quarterly expenses fell 25% to $526 million, despite a small uptick in fuel costs.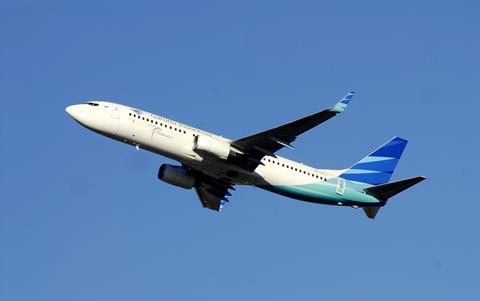 The SkyTeam carrier narrowed its quarterly net loss, from 2021's $384 million to $225 million.
The airline was able to shore up liquidity, ending the quarter with over $84 million in cash and cash equivalents, compared to $54.4 million at the start of the year.
As with previous financial statements, Garuda outlined its restructuring plan, which it recently obtained creditor and court approval for, with the aim of turning its dire condition around.
The carrier recently detailed a phased capacity ramp-up, with a focus on domestic flying in the near-term, as well as short-haul international operations. It also said it would reactivate a number of Boeing 737s to support the increase in network capacity.