Brazilian low-cost carrier Gol will resume flying the Boeing 737 Max aircraft from 9 December, making it the first airline in the world to do so, following the type's 20-month grounding worldwide.
The carrier states that by the end of the year, all seven 737 Max 8 aircraft will be cleared to resume flying, and "will be gradually reincorporated into the company's flight schedules in alignment with its operational needs".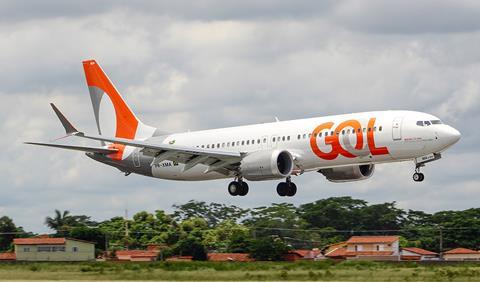 At the start, the aircraft will operate domestic routes from Gol's Sao Paolo hub, it adds.
Gol's announcement comes under a month after the US cleared the Max jet to resume services after a worldwide grounding following two fatal crashes.
A week after the US Federal Aviation Administration's (FAA) decision, Brazil's civil aviation authority, ANAC, followed suit, lifting an order that had grounded the aircraft type in the country.
Gol is the only major Brazilian carrier with 737 Max operations, having operated the type since 2018.
Cirium fleets data shows the carrier has 107 examples on order, comprising 77 737 Max 8 aircraft and another 30 examples of the larger Max 10 variant.
Outlining plans leading up to resumption of service, Gol says it is conducting training for 140 pilots together with Boeing in the US, using a 737 Max simulator.
"[Gol] also completed a rigorous series of technical flights, which exceeded the requirements set out by aviation regulatory agencies," it adds.
The 737 Max, still grounded in most parts of the world, will also resume flying with American Airlines on 29 December. The Fort Worth-based carrier recently disclosed plans for five employee-only flights on the 737 Max before its re-entry into service, in a bid to boost confidence following the grounding.