Hong Kong start-up Greater Bay Airlines has approached leasing companies to acquire its first aircraft with which it hopes to begin operations as early as next summer, Cirium has learned.
The airline, which according to Cirium data is backed by Donghai Airlines owner Bill Wong Cho-bau (known as Huang Chubiao in mainland China), is in talks with ICBC Leasing to lease three Boeing 737-800s, according to multiple sources in Hong Kong.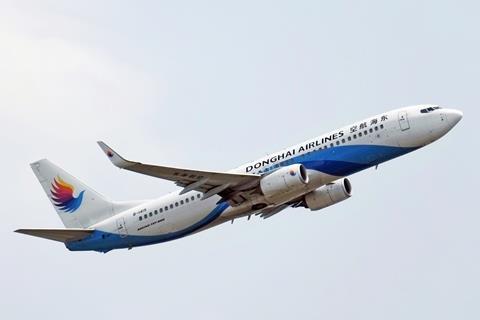 A source at a major non-Chinese lessor tells Cirium it was approached by the airline, but did not have suitable aircraft.
Sources say lessors have plenty of 737-800s available to lease in the current market. China's Kunming Airlines is seeking proposals from lessors for the lease of three used 737-800s to compensate for 737 Max delivery delays. Two lessors with access to the RFP say there are around 20 bidders and that some 100 aircraft have been offered.
Cirium understands that Greater Bay Airlines' interest lies only with the older generation -800, not with the newer 737 Max, grounding of which was lifted by the US Federal Aviation Administration on 18 November.
That preference for the older model would be in line with Donghai Airlines, which launched services in 2006 and has a fleet of 23 Boeing 737-800s, according to Cirium data. The airline, a subsidiary of Shenzhen East Pacific Group, has its base in Shenzhen and hubs at Changchun and Zhengzhou.
Cirium fleets data show ICBC Leasing leases two 737-800s to Donghai though its biggest lessor is AerCap, with five aircraft.
Wong has tapped several Hong Kong-based aviation executives to assist in setting up his new carrier in the Chinese special administrative region.
Stanley Hui Hon-chung is advising Wong on setting up the airline, according to local media reports. He previously headed up the Airport Authority Hong Kong as well as Dragonair, the carrier that became Cathay Dragon which ceased operations in October. Hui also sits on the board of Beijing-based Air China as an independent non-executive director, according to the carrier's 3 November filing to the Hong Kong stock exchange.
Hui, like Wong, is also a member of the Chinese People's Political Consultative Congress (CPPCC), an advisory body to the Chinese Central Government, according to a members' list. Hui told Nikkei Asia in a 31 October interview that he and Wong became close while serving together in the CPPCC.
Former Cathay Pacific engineering director Derek Cridland is also working for Greater Bay Airlines in a consultancy role to aid its efforts to secure licensing, while Hong Kong Airlines' former president Zhang Kui will be the start-up's chief operating officer, according to a 2 November South China Morning Post (SCMP) report.
Wong told the SCMP in the same interview that he expected to spend HK$2 billion ($258 million) on obtaining regulatory approval because he needs to hire staff and secure aircraft to demonstrate the airline's safety and operational credibility. HK$500 million had already been spent at the time of the interview.
Hui added he expects it will take until April for Greater Bay Airlines to obtain its AOC, after which it could start flying by June or July 2021.
Greater Bay Airlines' name is a reference to the Guangdong-Hong Kong-Macau Greater Bay Area, comprising China's two special administrative regions of Hong Kong and Macau, as well as nine mainland municipalities in Guangdong province, according to the Hong Kong government's official website on the area.
A 59-page plan for the Greater Bay Area was released on 18 February 2019. Part of that plan mentions developing "high value-added freight, aircraft leasing and aviation financing services" in Hong Kong, as well as expanding the area's domestic and international flight networks.