Jet Airways, the Indian carrier that has been grounded since April 2019, has posted a net loss of Rs28.4 billion ($391 million) for the 2019-20 fiscal year ended 31 March 2020.
This compares to a loss of Rs55.4 billion in the same period during FY2018-19.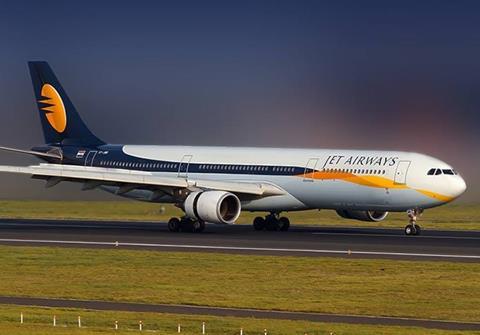 The carrier also reported a total income of Rs3.5 billion for FY2019-20, down from Rs233 billion in the prior fiscal year.
Jet's expenses dropped to Rs24.7 billion in FY2019-20, from Rs281 billion in FY2018-19.
Its cash and cash equivalents as of 31 March 2020 were Rs1.08 billion, down from Rs2.04 billion as of 31 March 2019.
Jet Airways suspended operations on 18 April due to a "critical liquidity position" and was approved to enter a corporate insolvency resolution process (CIRP) on 20 June 2019.
Mumbai-based Sharp & Tannan Associates, which was appointed as Jet's auditor on 29 September, did not express an opinion on the financial statements, saying it has "not been able to obtain sufficient appropriate audit evidence to provide a basis for an audit opinion".
All the company's directors, who would normally have been "primarily responsible" for the airline's financial reporting, had already resigned ahead of the CIRP approval.
Therefore, the airline's resolution professional Ashish Chhawchharia, who was initially appointed as interim resolution professional and subsequently confirmed as resolution professional, and the remaining employees of Jet's asset preservation team have "made all practical and reasonable efforts from time to time to gather details to prepare these financial statements [for FY2019-20]".
When the CIRP took effect, all the powers of the board of directors were suspended and exercised instead by Chhawchharia.
Nearly four months ago on 19 October, Chhawchharia told CNBC-TV18 that the airline could be flying again within the next four to six months. His comments followed news that creditors of the airline had voted to accept a bid for the airline from entrepreneur Murari Lal Jalan and asset management firm Kalrock.