Beleaguered Hainan Airlines dramatically cut its operating loss for the six months to 30 June, amid a strong uplift in revenue and a reduction in expenses.
For the half-year, the carrier, whose parent HNA Group is in the middle of a creditor-led bankruptcy reorganisation, reported an operating loss of CNY3.9 billion ($604 million).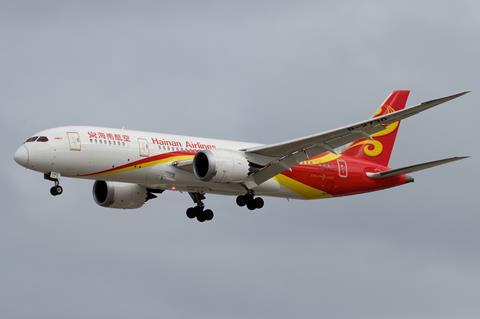 This represents a significant reduction compared to the record CNY16.3 billion loss it reported in 2020.
Revenue for the period climbed 56.5% year on year to CNY18.3 billion, helped by a 63% jump in transportation revenue. Traffic for the half-year grew by 63%, while capacity rose 48% year on year.
Hainan also bucked the trend seen by its larger compatriots, and cut its expenses for the period by 6.9% year on year, to CNY23.3 billion.
The carrier reported a net loss of CNY881 million, a significant reduction compared to the CNY11.8 billion net loss it posted in 2020.
The HNA Group in early 2021 received a bankruptcy application by its creditors, amid worsening financial strife within the group. Since then, the court approved applications from creditors to place 10 affiliates of Hainan Airlines Holding in bankruptcy reorganisation, including six airlines.
It later allowed the merger of 321 HNA Group-linked companies to speed up business restructuring efforts.
In its latest financial report, Hainan notes that the "circumstances" surrounding the business restructuring indicate "major uncertainties" about its ability to carry on as a going concern.
To this end, Hainan has implemented several measures to ease liquidity pressure and improve its financial position. These include "actively cooperating" with the court-imposed restructuring efforts, and reorganising to resolve its debt issues.
"The management … believes that [Hainan] will be able to resolve debt risks through restructuring and obtain sufficient working capital to ensure that the group can continue to operate within 12 months after June 30, 2021," the carrier discloses.