Hainan Airlines Holding is channelling away funds earmarked for aircraft purchase into permanent working capital.
In August 2016, the company raised gross proceeds of about CNY16.5 billion ($2.5 billion) from a private placement of over 4.6 billion domestic A-shares at CNY3.58 each.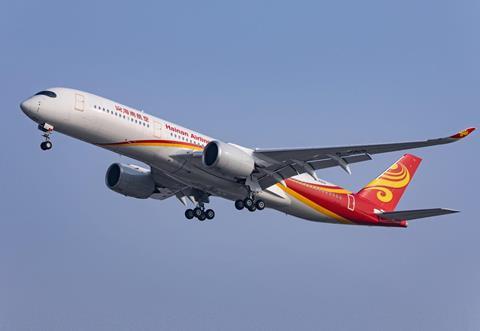 Of this amount, CNY11 billion was allocated to the purchase of 37 aircraft, which was projected to cover about 25% of the total cost. The remaining CNY5.55 billion was meant for the acquisition of a 48.21% stake in Tianjin Airlines.
The company said on Wednesday in a Shanghai Stock Exchange disclosure that unused funds will go towards permanent working capital. As of 15 December, the amount is CNY1.46 billion before interest and financial income, and is part of the CNY11 billion allocated to the aircraft purchase.
Working capital is an indication of a company's ability to meet short-term obligations and fund its daily operations. Permanent working capital typically represents the baseline capital requirements and tends to remain constant regardless of business activity.
Hainan says it made the decision based on current market conditions and highlights the need to match its fleet and capacity, against the backdrop of the pandemic. Doing so will also reduce depreciation costs on idle assets.
The company expects the move to improve liquidity and the funds will be used for core business activities. Without elaborating, it adds that this will increase the company's resilience to risk factors.