UK start-up Hans Airways is set to return its only aircraft, an Airbus A330-200, and open talks with potential new investors, after launch hopes were hit by delays in securing its air operator's certificate.
Birmingham-based Hans Airways has been working on a plan to launch long-haul flights between the UK and India. It took its first aircraft, an ex-Air Europa A330-200, in August 2022 and had originally hoped to launch flights that year. In November it said it had completed a fresh round of financing as it bid to secure its AOC and launch operations.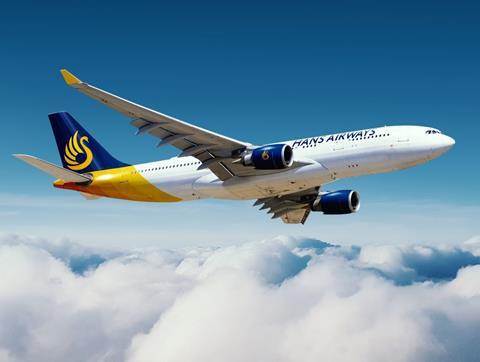 However its difficulties securing an AOC have persisted. "Fulfilling the rightly-stringent financial criteria required by the UK [Civil Aviation Authority] to commence scheduled operations continues to hinder our launch plans," the carrier says.
"This is despite satisfying all technical aspects of long-haul airline operations and maintaining a solvent start up business since our inception in 2019.
"In light of this we are pursuing a number of options. This includes the relinquishing of our first aircraft and stepped-up dialogue with prospective new investors and lessors. We maintain close and cordial dialogue with the CAA."
The carrier has not disclosed a potential launch timeframe.