Canadian regional operator Harbour Air will not begin flight testing a certifiable version of its modified electric-powered seaplane until late 2023, blaming supply chain issues and a revised development process for the delay.
Harbour Air is converting a 1955-built De Havilland Canada DHC-2 Beaver to run on battery power, replacing the existing Pratt & Whitney R-985 Wasp Junior powerplant with a Magnix electric propulsion unit (EPU).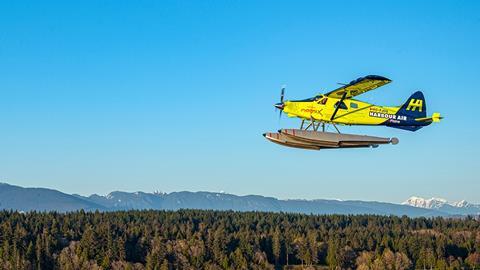 A proof-of-concept aircraft (C-FJOS) first flew in December 2019 and the carrier began converting a second example (C-FIFQ) to serve as a certification platform for the electrification in December last year at its facilities near Vancouver, British Columbia.
Although Harbour Air had previously expressed an ambition to begin passenger flights using the electric aircraft this summer, that timeline has now shifted.
In an update posted on its website, the airline says that as part of the critical design review process held in March along with its project partners, the decision has been taken to build the certification prototype in two phases.
Harbour Air hopes to complete the first step of its conversion process by year-end, allowing ground runs and system tests to take place. Once this activity is finalised, certain components will be replaced with certifiable versions, enabling flight testing to commence in late 2023.
Supply chain challenges are also weighing on the project: Harbour Air says shortages of electronic components are a particular issue, with lead times of up to 25 weeks in some cases.
In the meantime, refurbishment of the aircraft's fuselage continues in order to ready it for the modification work; Harbour Air's distinctive yellow "ePlane" livery should be applied by the end of May.
Design tweaks to the EPU and energy storage system are also being implemented to ensure an optimum fit. Harbour Air is holding weekly meetings with Magnix to move towards design freeze on the EPU.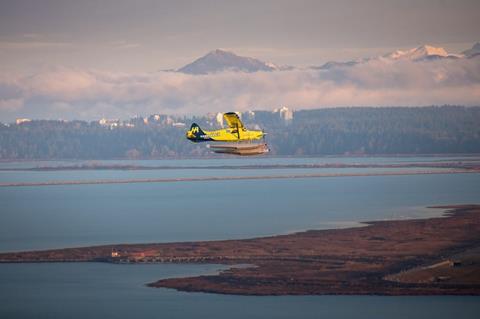 Flight testing using the proof-of-concept aircraft is continuing, says the operator; glide performance testing and low-power climbs are envisaged for the coming weeks.
Harbour Air intends to validate the modification through a supplemental type certificate. Last December the carrier said it had held "preliminary" meetings with Transport Canada which provided "the basis of certification necessary to approve this conversion".
USA-based Magnix will certificate its 640kW (850shp) Magni650 EPU via the Federal Aviation Administration, which classifies the system as an aircraft engine. Battery provider H55 – a spin-off from the Solar Impulse project – will meanwhile seek approval from the European regulator.
Harbour Air is additionally analysing "the unique charging stations that our infrastructure will require" over the next 10 years, in conjunction with consultancy LA Energy.
"LA Energy will liaise with us, [electricity provider] BC Hydro, the Vancouver Harbour Flight Centre and any other stakeholders to manage the charging infrastructure changes necessary," it says.
While serving the cities of Vancouver and Victoria, Harbour Air's route network also encompasses many more remote locations across British Columbia, potentially requiring different charging solutions.
Harbour Air says the converted aircraft will be capable of carrying four passengers and a pilot on flights of around 30min with a 30min reserve.