Helvetic Airways has taken delivery of its fourth and final Embraer E195-E2 – and its 12th second-generation E-Jet – as the Swiss regional carrier concluded a fleet renewal programme begun in October 2019.
The latest example of the Pratt & Whitney PW1900G-powered twin (HB-AZL) arrived at the airline's Zurich base on 15 August, having departed from Embraer's Sao Jose dos Campos production facility the previous day.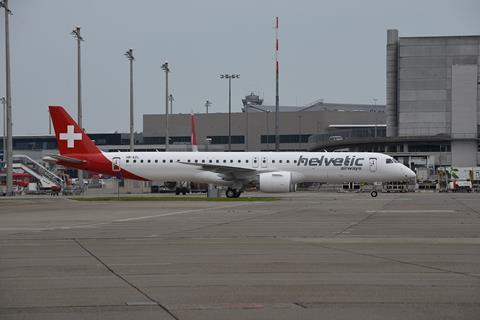 In all, the 5,350nm (9,900km)-long flight took 11h 30min and included stops in Natal, Brazil and Las Palmas, on Gran Canaria.
Helvetic Airways now has a 16-strong fleet: eight E190-E2s, four E195-E2s – the first of which was handed over in June – and four earlier-generation E190s, which will provide "reserve and back-up capacity".
Investment in the acquisition of the 12 new jets totals $750 million, says the carrier.
"We are very satisfied with our new Embraer fleet," says Helvetic Airways chief executive Tobias Pogorevc. "They perfectly meet our needs in terms of their capacity, their range and their environmental credentials, which are all among our prime priorities."
Helvetic Airways also holds purchase rights for another 12 E2s but based on post-pandemic conditions "we do not plan to exercise these in the near future," says Pogorevc.
The E190-E2s can carry 110 passengers, while the E195-E2s can accommodate 134.