Swiss carrier Helvetic Airways has become the first airline to take delivery of two variants of Embraer's E-Jet E2 family, with the handover today of an E195-E2.
Helvetic will receive an additional three examples of the 134-seat jet over the coming weeks as it completes a $750 million fleet modernisation programme that began in 2018 when it first ordered 12 E190-E2s.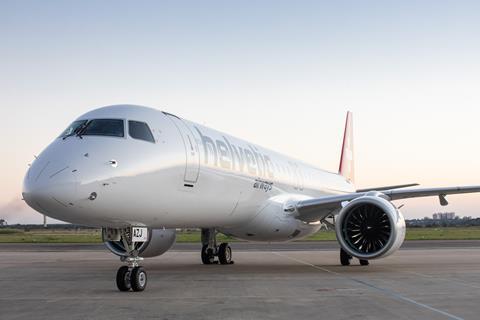 Eight of those aircraft are already in service, alongside four first-generation E190s, but the carrier opted in 2020 to switch the final four deliveries to the larger E195-E2 as "we wanted more flexibility in terms of seating capacity", says Tobias Pogorevc, Helvetic chief executive.
Pogorevc, speaking during an online delivery event, said that having both the 134-seat E195-E2s and 110-seat E190-E2s allowed the carrier "to plan the right aircraft depending on demand".
Customers are increasingly booking at "very short notice", he says, in some cases as little as two weeks ahead of departure.
Pogorevcc says the arrival of that quartet of E195-E2s will position the carrier to "meet the challenges of the post-pandemic world", aided by a "strong balance sheet" and "no debt to the state".
Helvetic's first E195-E2 (HB-AZI) will arrive at the airline's Zurich airport base on 25 June after its ferry flight from Embraer's Sao Jose dos Campos assembly line. It will make its maiden commercial flight on 10 July from Basel to the Greek island of Santorini.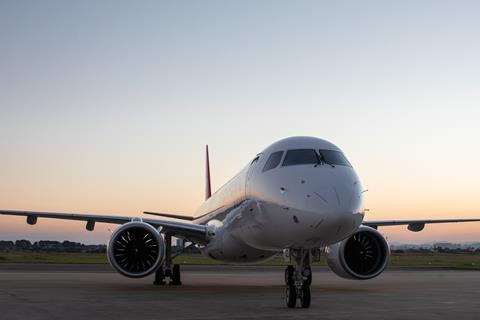 Arjan Meijer, chief executive of Embraer Commercial Aviation, says that the combination of the two jets "will provide Helvetic with incredible flexibility to schedule the E2 fleet according to market demand".
He remains confident of securing additional customers for the E2 as airlines look to divest larger aircraft types and bring in "more efficient, adaptable" jets.
Meijer declines to forecast Embraer's delivery total this year, but says it will be in excess of the 44 commercial aircraft it handed over in 2020. However, he cautions that production will not return to pre-pandemic levels before 2023.
Nonetheless, as the industry emerges from the crisis "we believe there will be more demand for our products", he says.
Separately, the European Union Aviation Safety Agency has approved a higher maximum take-off weight for the E195-E2 of 62t, an increase of 500kg (1,100lb) over the previous maximum. There is no change to the aircraft's range performance, however.