Indian low-cost carrier SpiceJet saw its second quarter operating loss widen to Rs8.4 billion ($104 million) from an operating loss of Rs5.6 billion a year earlier.
Revenues in the three months ended 30 September climbed 45.4% to Rs19.5 billion, while net losses widened to Rs8.4 billon from Rs5.6 billion, according to the carrier's second quarter financial statement.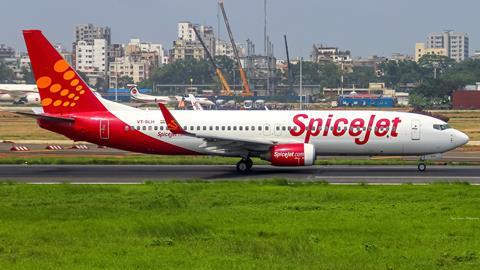 The company attributes its weak results to the decline in the Indian rupee against the US dollar, high fuel prices, competition pressures, as well as the residual impact of the coronavirus pandemic.
In the second quarter expenses rose 50% year on year to Rs29 billion, with fuel expenses doubling to Rs12 billion.
In specific business areas, passenger air transport service revenue more than doubled year on year to Rs17.4 billion. Cargo revenue, however, dropped by more than half to Rs2 billion.
As or 30 September, cash and cash equivalents stood at Rs79 million, compared with Rs441 million a year earlier.
In a note accompanying SpiceJet's results, the company's auditor, Walker & Chandiok, says that SpiceJet's liabilities exceed its assets by Rs76 billion.
"These conditions and other matters…indicate the existence of material uncertainties that may cast significant doubt about the company's ability to continue as a going concern," says Walker & Chandiok.
SpiceJet, for its part, says it is in discussions with banks to raise funds, and also believes it can eventually earn a profit.
"The group continues to implement various measures such as enhancing customer experience, improving selling and distribution, revenue management, fleet rationalization, optimising aircraft utilisation, redeployment of capacity in key focus markets, management and employee compensation revision, renegotiation of contracts and other cost control measures, to help the group established consistent profitable operations and cash flows in the future," says SpiceJet.
Cirium fleets data indicates that SpiceJet has 52 in-service aircraft. These comprise 16 737 Max 8s, 17 737NGs, three 737-700BDSFs, and 16 De Havilland Canada Dash-8 Q400s. It also has 32 aircraft listed as in storage, and orders for 144 737 Max jets.