Cathay Pacific saw strong traffic growth in November on the back of Hong Kong's continued opening as it emerges from the coronavirus pandemic.
During November Cathay carried 527,000 passengers, up sevenfold from a year earlier, according to its traffic results. While this marked a significant jump, it is still 80% lower than in pre-pandemic November 2019.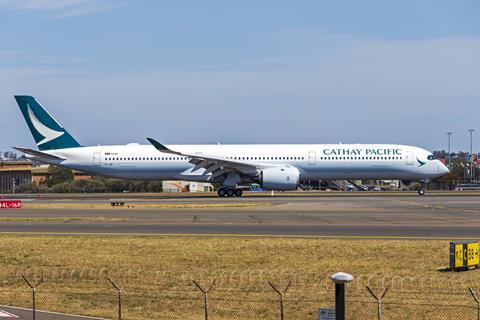 RPKs grew six-fold from a year earlier as ASKs doubled. Cathay's passenger load factor saw a big improvement, jumping 51.7 percentage points to 78.5%.
"We continue to see positive signs for our travel business," says chief customer officer Ronald Lam.
"Sentiment and demand for travel out of Hong Kong continued to improve in November. We also saw increased visiting friends and relatives traffic into Hong Kong, particularly from long-haul origins such as North America, Europe and the South West Pacific. Transit traffic via the Hong Kong hub also improved as we grow our network of destinations."
Cathay's November cargo carriage, however, fell 23.8% from a year earlier, and its cargo load factor dropped 15.6 percentage points to 66.9%. Cargo capacity as measured by AFTKs dropped 11% year on year.
"Production activities in the Chinese Mainland and trade flows remained constrained," says Lam of Cathay's cargo result.
"While we did witness a mild uptick in e-commerce movements into the Americas around the Black Friday shopping period, a similar surge on regional lanes was more short-lived. Conversely, movements of perishable goods from South America as well as Australia and New Zealand were relatively active."
On its outlook, Cathay says that Hong Kong's easing of travel restrictions has boosted travel sentiment. As the Chinese New Year holiday period approaches in late January 2023, Lam expects demand to continue improving.