HSBC has widened its loss estimates for China's three largest state-owned carriers, while forecasting a full domestic travel recovery by 2023.
The 'Big Three' — comprising Air China, China Eastern Airlines and China Southern Airlines — are now forecast to report a cumulative full-year loss of CNY24 billion ($3.7 billion) for 2021. This compares to HSBC's earlier forecast of CNY12 billion.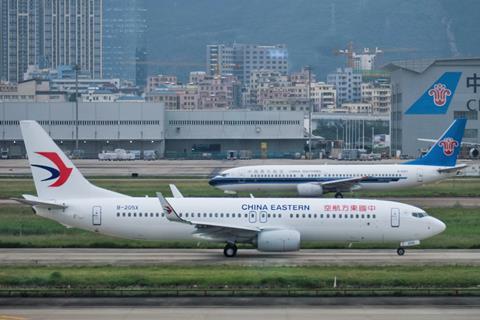 "This reflects our cautious view on a recovery in international travel, lower domestic pax and yield, and cost pressures partially offset by strong cargo," HSBC states.
The HSBC Global Research report, dated 12 August, comes as China battles a resurgence in coronavirus infections from the more contagious Delta variant.
The bank notes that the latest wave — the fifth major infection wave in the Chinese mainland — "has disrupted the domestic summer peak season travel", and affected domestic recovery momentum.
Still, HSBC believes that the Chinese authorities will move in to swiftly contain the latest outbreak — as they have on previous occasions — and this will allow a "sharp recovery" on the domestic front.
"Increased vaccination rates will also likely render any future outbreaks less painful than the past," they add.
However, the latest infection wave — traced back to Nanjing airport cleaning staff working on an Air China aircraft from Moscow — will "further push out" prospects of China reopening its international borders.
"The Delta variant continues to spread across Asia with new peaks being reported in Thailand, Japan, Korea, Vietnam and Malaysia while cases have crossed over 100,000 in the US as well. "While we argue that mainland China's domestic air capacity and traffic may recover rather sooner, the authorities have remained hawkish about considering reopening its borders. We therefore expect reopening of international travel only in mid-2022," they add.
HSBC notes that the 'Big Three' are now also "much better capitalised" compared to the Global Financial Crisis of 2008-9, "courtesy of significant equity infusion and improvement in profitability, with ramp-up of load factors and enhanced cost control".
It reiterates the view that further consolidation within the Chinese airline market is possible.
"We remain optimistic that during this downturn, the Big 3 airlines will lead any potential consolidation in the domestic market," says HSBC.
The idea of consolidation was first floated in a HSBC research note in April 2020, at the onset of the coronavirus pandemic, which was first discovered in the Chinese mainland.
China's 'Big Three' are due to release their financial results for the six months ended 30 June.