British Airways and Iberia owner IAG has converted a loan to the parent company of Air Europa into a 20% stake in the airline.
IAG had in mid-March agreed to loan Globalia €100 million ($101 million) over seven years in a deal that gave the pan-European group exclusivity on rights to purchase the Spanish airline and the option to convert the loan to a 20% stake.
IAG chief financial officer Nicholas Cadbury confirmed on 16 August that it has exercised that option.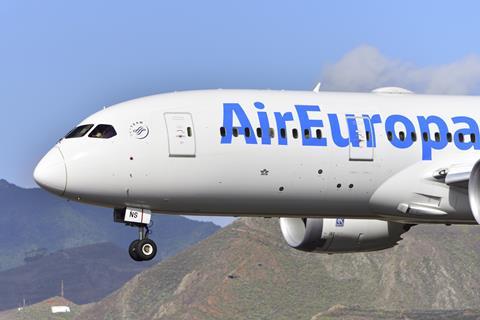 The group had struck a pre-pandemic deal to buy the whole of Air Europa's share capital, but the acquisition fell through late last year amid European Commission competition concerns.
IAG suggested in May that the 20% stake was unlikely to be a concern for competition authorities, however, given "the level of overlap in the countries that we are working is not very high", according to chief executive Luis Gallego.
Gallego added that the group retained the ambition to eventually take full control of Air Europa, "because that is the way to capture the synergies" and "to develop the Madrid hub".