British Airways and Iberia parent IAG expects to operate just a fifth of its 2019 capacity in the first quarter after disclosing it swung to a €7.43 billion ($9.1 billion) operating loss last year.
IAG posted a €1.47 billion loss for the fourth quarter, a period in which it operated only 27% of its 2019 capacity as travel restrictions to counter the coronavirus tightened.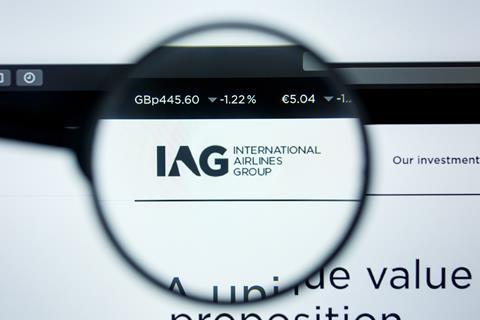 The group cut capacity capacity across the full year by two-thirds, resulting in a 75% slump in passenger revenues to €5.51 billion for 2020. A stronger cargo performance helped cut the drop in total revenues to 69% to €7.8 billion.
IAG's full year operating loss of €7.43 billion last year compares with a profit of €2.61 billion in 2019. Operating losses before exceptional items, which include early fleet retirement and restructuring costs, stood at €4.36 billion for 2020.
Group chief executive Luis Gallego says: "Our results reflect the serious impact that Covid-19 has had on our business. We have taken effective action to preserve cash, boost liquidity and reduce our cost base. Despite this crisis, our liquidity remains strong."
At 31 December, the group's liquidity was €10.3 billion following a €2.7 billion capital increase and a £2 billion UK export finance loan commitment.
"This is higher than at the start of the pandemic," says Gallego. "The group continues to reduce its cost base and increase the proportion of variable costs to better match market demand. We're transforming our business to ensure we emerge in a stronger competitive position."
IAG's largest carrier, British Airways, recorded an operating loss of €3.88 billion in 2020 on revenues down 70%.
Iberia revenues fell the least sharply among the group's carriers, down 60% on 2019, helped by a solid cargo performance. The airline posted a loss of €1.41 billion. Fellow Spanish carrier Vueling, which had no cargo business to fall back on, lost €875 million on revenues down 77%.
Irish carrier Aer Lingus recorded an operating loss of €563 million after revenues fell 78%.
Gallego says: "The aviation industry stands with governments in putting public health at the top of the agenda. Getting people travelling again will require a clear roadmap for unwinding current restrictions when the time is right.
"We know there is pent-up demand for travel and people want to fly. Vaccinations are progressing well and global infections are going in the right direction. We're calling for international common testing standards and the introduction of digital health passes to reopen our skies safely."