Airline body IATA expects collective industry profits to climb back to almost $30 billion in 2020, despite further cutting its outlook for the current year.
IATA had in its mid-year outlook for 2019 anticipated airline industry profits would stand at $28 billion - itself down a fifth on its initial expectations for the year.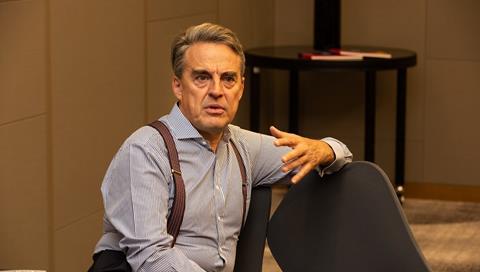 It has today at its global media day in Geneva disclosed it expects the industry to post a collective net profit of $25.9 billion in 2019 - which it largely attributes to weaker world economic and trade growth trends. It means IATA's industry expectation for 2019 is almost $10 billion down on the figure it had expected in its initial outlook for the year 12 months ago.
"Slowing economic growth, trade wars, geopolitical tensions and social unrest, plus continuing uncertainty over Brexit all came together to create a tougher than anticipated business environment for airlines," says IATA director general Alexandre de Juniac.
"Yet it appears that 2019 will be the bottom of the current economic cycle and the forecast for 2020 is somewhat brighter," he adds.
Slightly higher global economic growth of 2.7% for 2020 and an anticipated improvement in world trade growth of 3.3% is in part a driver of IATA's projections that industry profits will rise to $29.3 billion in 2020. Another driver is an expected cut in fuel expenditure of around 3% in 2020 as new aircraft deliveries grow during the year.
"The big question for 2020 is how capacity will develop, particularly when, as expected, the grounded 737 Max aircraft return to service and delayed deliveries arrive," notes de Juniac.
NORTH AMERICAN CARRIERS LEAD PROFITS
Over half the industry profit will again this and next year come from North American operators. The region is expected to generate $16.9 billion net profits this year and $16.4 billion in 2020.
Projected industry net profits by region ($bn)
Region
2018
2019e
2020e
Source: IATA
North America
$14.5bn
$16.9bn
$16.5bn
Europe
$9.1bn
$6.2bn
$7.9bn
Asia-Pacific
$6.1bn
$4.9bn
$6.0bn
Africa
-$0.1bn
-$0.2bn
-$0.2bn
Latin America
-$0.8bn
-$0.4bn
$0.1bn
Middle East
-$1.5bn
-$1.5bn
-$1.0bn
TOTAL
$27.3bn
$25.9bn
$29.3bn
Europe is the next profitable region in both years. Restructuring at some key Middle East carriers means it is seen as loss-making in 2019 and 2020.