Air freight capacity in October dipped below 2021 levels for the first time since April, IATA figures released today show, as economic headwinds continue to tighten cargo demand.
Airlines reduced global air cargo capacity in October by 0.6% compared with October 2021, while demand (measured in tonnes of cargo carried per kilometre) declined 13.6% from the same month last year. Air freight demand was also around 6% less than pre-pandemic levels for October.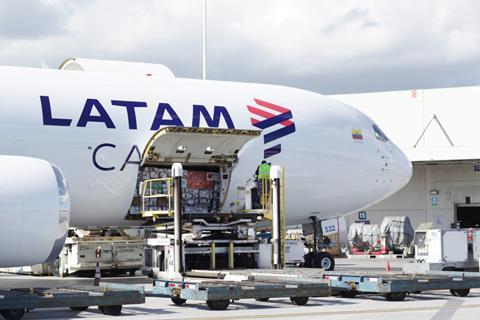 IATA's October figures show continuation of a recent trend of slowing air cargo demand after a bumper performance last year.
"Headwinds in the air cargo industry persisted in October, including high inflation rates in advanced economies, weak performance in the global flows of goods and services, the ongoing war in Ukraine and the unusual strength of the US dollar," IATA notes. "All of these factors put downward pressure on air cargo growth."
IATA, however, does note some positivity: air cargo demand in October climbed 3.5% on September's performance.
"This indicates that the year-end will still bring a traditional peak-season boost despite economic uncertainties," says IATA director general Willie Walsh. "But as 2022 closes out, it appears that the current economic uncertainties will follow into the New Year and need continued close monitoring."
Cargo volumes were down in all regions versus 2021 in October, including in Latin America – where carriers have been enjoying a boom in air freight demand since the pandemic.
"The months-long double-digit year-on-year growth in international CTKs in Latin America came to an end in October, with only 0.3% growth," IATA says. "All other regions experienced greater year-on-year contractions in international air cargo activity compared with the previous month."
That includes a nearly 15% fall for airlines in the biggest air cargo market, Asia-Pacific.