Icelandair has signed signed a memorandum of understanding to purchase 13 Airbus A321XLR aircraft – the airline's first ever Airbus order – to replace its fleet of ageing Boeing 757s.
The deal, financial terms of which were not disclosed, will also comprise options for another 12 of the long-haul narrowbody.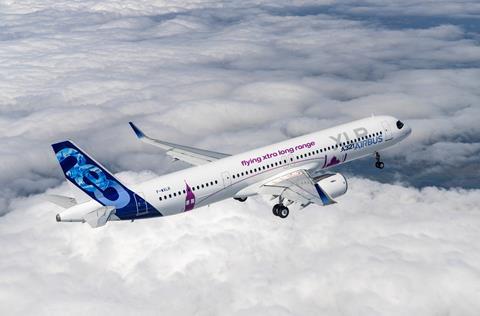 Deliveries are expected to commence from 2029, though Icelandair says it intends to start operating Airbus aircraft from 2025 and is looking to lease four A321LRs first.
"With the acquisition of the Airbus aircraft, Icelandair will complete the replacement of the Boeing 757," the carrier states on 7 April.
Icelandair has a fleet of 17 757s, including a pair of -300s. The type has been with the fleet for more than 30 years.
The new A321XLRs are likely to seat about 190 passengers, seven more than its 757s, and up to 30 more passengers than its 737 Max fleet.
Airline chief Bogi Nils Bogason says the new aircraft will "open opportunities for future growth by entering new and exciting markets".
Icelandair had been in fleet renewal discussions with Airbus and Boeing, and in February said it was considering the A320neo-family jets, as well as the 737 Max.
The order marks a shift in the airline's fleet composition, which has always been made up of Boeing aircraft.
Icelandair says it remains committed to its fleet of Boeing aircraft, which also comprise 767s.
"The Boeing 757, 767 and 737 Max aircraft will continue to be important for Icelandair's operations in the coming years. Icelandair has had a successful relationship with Boeing for decades and the aircraft have been a key to Icelandair's success in the past," it says.