Icelandair is to work with Universal Hydrogen to examine the potential for conversion of the carrier's De Havilland Canada turboprops to hydrogen-electric power – the latest in a string of deals for the US clean-fuel start-up.
Covered by a letter of intent between the two parties, the pact adds to a previous agreement with Sweden's Heart Aerospace, which is developing a 19-seat electric aircraft, as the carrier examines ways of decarbonising its domestic flights.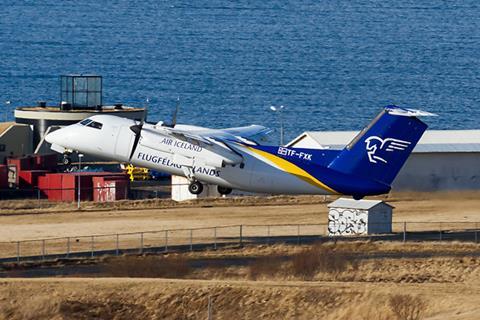 Icelandair says the nature of its domestic operation – the former Air Iceland Connect – which involves short-range flights, makes it ideal for aircraft powered by alternative fuels.
Additionally, a plentiful supply of electricity from renewable sources is a key enabler for the switch away from jet fuel.
No details of what is covered by the agreements have been revealed, however. Icelandair says it has "worked with Heart Aerospace for some time and will now start an in-depth analysis with Universal Hydrogen."
Jens Thordarson, Icelandair chief operating officer, says it hopes to become one of the first airlines in the world to produce zero emissions from its domestic flights.
"As technology advances, we hope to be able to use the experience of decarbonising our domestic services to accelerate the implementation of carbon-neutral energy to power our international flights," he says.
Icelandair operates three 37-seat Dash 8-200s and a pair of larger 76-seat -400s on services within Iceland and to destinations in Greenland.
The Dash 8-200s are powered by Pratt & Whitney Canada PW123s and the -400s by PW150s.
Heart Aerospace says it will have its ES-19 in service by 2026, while Universal Hydrogen has previously said its conversion kit for the Dash 8-300 could be available from 2024.
Universal Hydrogen on 14 July announced an agreement with Spain's Air Nostrum, which would see the regional carrier acquire 11 conversion kits for its 11-strong fleet of PW127-powered ATR 72-600s. No timeline for its introduction was disclosed.
Reuters also reports that US carrier Ravn Alaska is to purchase five conversion kits for its Dash 8-100 and -300s.
Both orders are subject to the successful certification of the conversion kits, which comprise fuel cells and an electric powertrain.
Core to Universal Hydrogen's business model is the supply of hydrogen in modular capsules that can be transported via the normal intermodal container network and easily loaded into an aircraft. However, it has also developed the fuel-cell conversion kit to accelerate the uptake of the green fuel.
Separately, Deutsche Aircraft has agreed a "technical collaboration" with Universal Hydrogen to perform a design study covering the potential incorporation of the modular storage capsules into a zero-emission version of the Dornier 328.
Deutsche Aircraft recently partnered with fuel-cell firm H2FLY to incorporate its technology in the modernised variant of the twin-turboprop being developed by the German airframer. Demonstration flights of that aircraft are due to start in 2025.
The study will analyse the size and integration of the modular capsule technology into the aircraft structure and systems – including loading and unloading considerations; aircraft weight and balance; hydrogen cost; mission performance; and the hydrogen logistics network design.