Indian low-cost carrier Go First — formerly known as GoAir — hit a roadblock in its planned market listing, with the securities and exchange regulator temporarily halting the airline's IPO.
In a notice dated 25 June on the processing status of draft offerings, the Securities and Exchange Board of India (SEBI) listed Go Airlines — the issuer company name of Go First — among the 21 companies that it had yet to issue observations about.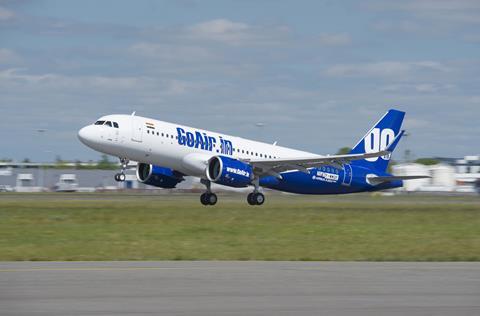 It states that its issuance of observations is "kept in abeyance", but did not elaborate. The notice also states that it is awaiting clarification from the lead manager involved, ICICI Securities Limited.
No further reasons were provided by the regulator. Media reports from India have pointed toward alleged irregularities at Go First sister company Bombay Dyeing.
Both Go First and Bombay Dyeing are owned by Indian conglomerate Wadia Group.
A report from Indian financial news site Moneycontrol, citing unnamed sources, states that Bombay Dyeing and its promoters received a show cause notice from the regulator's financial investigation department, over alleged irregularities.
Another source cited states that Go First had sought an exemption from the regulator, and urged the SEBI to process the issue.
FlightGlobal has written to Go First seeking comment.
In May, the carrier filed details for a planned IPO aiming to raise up to Rs36 billion ($484 million). It said then that it expects to use more than half the proceeds to repay "certain outstanding borrowings" to reduce its indebtedness and improve its debt-equity ratio.